ANSA McAL, under its Smalta and iCool Water brands, has joined a group of viable sponsors for the KFC Goodwill Tournament, which is slated to kick-off on Saturday.
The Tournament will see the participation of three Guyanese teams and one Trinidadian team in a clash for Under-18 supremacy.
Speaking on the organiser's behalf, Co-Director Troy Mendonca of the Petra Organisation spoke of the importance of such partnerships.
"We want to let them know that contribution will go a very far way in terms of the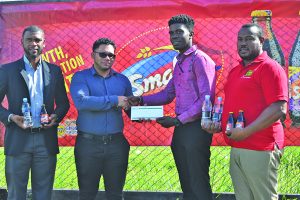 development of football as a whole. It is in keeping with our organisation's vision, which is to revitalise football at the school level," Mendonca explained.
The Co-Director went on to share his expectations for the three-day tournament, detailing the benefits it should bring to the youngsters involved.
"This tournament will just crown it all; it gives the youngsters an opportunity to showcase their talent at a different level. It also gives them an opportunity to see where they're at, compare themselves and we hope that this tournament serves as a motivation for them."
In concluding his remarks, Mendonca extended his gratitude to ANSA McAL, stating, "So, on behalf of Petra and the football fraternity, once again, we want to say thank you very much to ANSA McAL and we look forward to a good tournament and a continued relationship."
On the flipside, ANSA McAL's Beverage Manager, Errol Nelson explained that the company was open to partnering with Petra as a result of its excellent work.
"We at ANSA McAL, over the years, have been very pleased with the Petra Organisation in their quest to promote and develop the sport of football," Nelson said.
Additionally, he stressed on the need for football at the grassroots level in this season.
"As you know, at this time of the year in Guyana, there are usually many football tournaments, but none at the grassroots or developmental level. And, as such, we signed on to this tournament, because we think it gives the youths a great opportunity to display their talents."
Annai, Annandale and Christianburg-Wismar Secondary Schools along with Shiva Boys Hindu College of Trinidad are the four teams that will be vying for supremacy when the tournament is kicked off at 17:00h on Saturday at the Ministry of Education Ground.
On the first day of play, the visiting Shiva Boys will take on Annai Secondary while Christianburg-Wismar take on Annandale Secondary. The second day of competition (December 18) will see Christianburg-Wismar battling Annai and Shiva Boys coming up against Annandale Secondary.
The final day of KFC Goodwill action will be on Saturday, December 22, when Annai Secondary will face off with Annandale Secondary while Shiva Boys engage Linden's Christianburg-Wismar Secondary.