The Special Organised Crime Unit (SOCU) of the Guyana Police Force (GPF) on Wednesday hosted a seminar aimed at training relevant officials in areas of anti-corruption and anti-money laundering (AML) practices.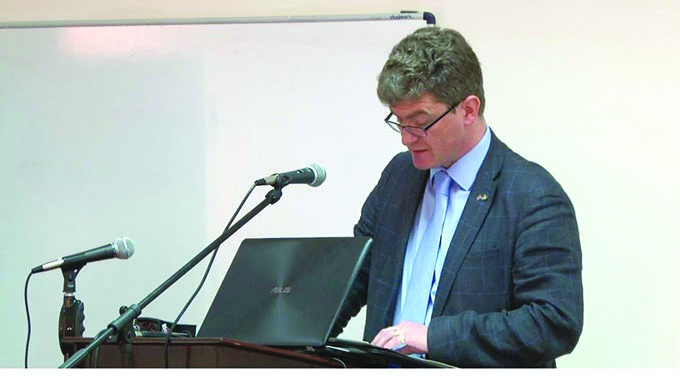 The beneficiaries are personnel from the financial crime community, including investigators, bank officials, anti-drug trafficking unit officials, members of the Office of the Director of Public Prosecutions (DPP), and other relevant agencies.
Attorney General and Legal Affairs Minister Basil Williams, during the opening ceremony, explained that corruption deterred investors, hindered economic growth, and undermined confidence in Government and public offices, among other consequences which can ultimately lead to poverty.
He also praised the Anti-Money Laundering and Countering of Financial Terrorism (AML/CFT) Act which he said has provided the framework for the seizure, detention and forfeiture of proceeds of criminal activities.
Williams also mentioned forthcoming legislation including the State Assets Recovery Agency Bill, the Witness Protection Bill and the Whistleblower Bill, which will shape a more strengthened regime to tackle corruption.
Also speaking at the seminar on Wednesday, British High Commissioner Gregory Quinn underscored the importance for countries around the world, including Guyana, to eliminate corruption.
"Corruption is a cancer, money laundering is a cancer…both reduces the funding ability of a government to do day-to-day business to improve the life of citizens; they also have a direct impact on the citizens of a country and their ability to live their lives. Corruption undermines trust and confidence in Government and businesses…If Guyana is to continue to grow and use future resources for betterment of all, it would be necessary to address these issues," Quinn stated.
The High Commissioner quoted a recent corruption report that revealed Guyana was ranked 108 out of a total of 176 countries, which means the country has endemic corruption in the public sector.
Nonetheless, he lauded the country's efforts thus far in tackling corruption and pledged his Government's commitment in continuing to provide assistance to help in this regard.
Meanwhile, UK-based financial fraud expert, Dr Sam Sittlington, who was the presenter of the seminar, underscored the importance of information sharing in achieving successful results.
"We are the economic crime community and we have to cooperate if we want to be successful" he emphasised.
Dr Sittlington, in a simple exercise, demonstrated how easily it was to engage in a corrupt act – whether bribery or any other form – by gifting several associates with envelopes purported to be containing money.
The envelopes with the gifts (which were later revealed to be phony) were considered acceptable as no one raised an eyebrow over the conduct of such an action. Dr Sittlington highlighted that by a simple gesture of handing out gifts, that person is attempting to influence a decision for personal gain which can be classified as corruption. He noted that was why some organisations have policies on the acceptance of gifts.
During the seminar, presentations were delivered by the State Asset Recovery Unit (SARU); the Financial Intelligence Unit (FIU), and other relevant authorities.