… PPP pickets SOCU's HQ
Days after they were each released on $200,000 station bail following several hours of questioning by officers attached to the Special Organised Crime Unit (SOCU), former Finance Minister Dr Ashni Singh and former head of the National Industrial and Commercial Investments Limited (NICIL), Winston Brassington, were asked to return to SOCU Headquarters in Georgetown on Monday; but when they did, no officer was available, or turned up, to question them.
One of the men's attorneys, Anil Nandall, told this newspaper that when the duo turned up at SOCU's office at 09:00h, not only was there no officer present to question them, but they were asked to sign a diary requesting that they return next Monday.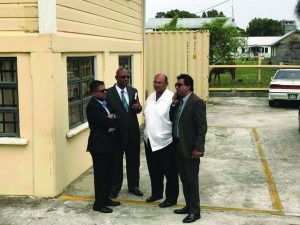 Nandall said at that point he had to intervene and inform SOCU Head Sydney James that his clients would not be returning for further questioning.
"…that while they were willing to assist with the investigations, they have no duty to do so. And they have exhausted their willingness to help…I told him that they were there today (Monday) and were prepared to spend the entire day if that was to happen, but SOCU was not ready, and they won't return," Nandlall explained.
Nandall also said the men's $6 million bail each on three counts of misconduct places on them no condition that they must subject themselves to SOCU's interrogation.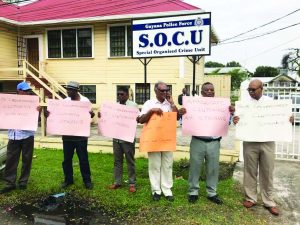 Asked whether the $200,000 station bail that they were put on Wednesday last is an indication that they could be slapped with additional charges, the attorney said, "I inquired, and I was told that apparently there are no new charges to be instituted; at least not in the near future. I don't know what the bail was for. However, we will have to take steps to recover those bail monies soon."
Protest
Meanwhile, supporters of the Opposition Peoples Progressive Party Civic (PPP/C), together with Members of Parliament (MPs) from that party, picketed SOCU's office on Monday, arguing strongly that there is no merit to the charges against the men, and there is therefore no need for them to be further interrogated and questioned by SOCU when clearly they have been processed by a court of law.
Nandlall supported those arguments, and said that charges brought against these two former senior Government officials are a clear case of innocent people being prosecuted. Nandall, a former Government minister himself, also criticised civil society organisations for staying silent on the matter. "Civil society needs to condemn what is taking place," he stated.
Both men were recently granted $2 million bail on each of the three joint charges. The two former Government officials were charged for allegedly selling several plots of land on the East Coast of Demerara to National Hardware Guyana Ltd for over $598 million; to Scady Business Corporation at a cost of $150 million, and to Multi-Cinemas Guyana Inc at a cost of $185 million. The Special Organised Crime Unit (SOCU) filed the charges against the two former Government officials early last month.
Following the court proceedings, both men were escorted by Police in handcuffs and placed in the prisoner's dock, where they remained for a few minutes before being released. Nandlall described the act of handcuffing Singh and Brassington as dehumanizing, and one that sought to humiliate these two former senior Government officials, who served their country with distinction.
Nandlall said once the current charges are over, there will be a barrage of civil proceedings that will be fielded for reputational damage caused to the duo. The attorney noted that persons are going to be charged personally for their involvement in the matter, and not the State alone.
Singh and Brassington are due to return to court on June 5.