…as lucrative Prime Minister's Cup is launched
An initiative which is the first of its kind — the Prime Minister's Softball Cup — was launched on Sunday at the Everest Cricket Club on Camp Road, much to the delight of several teams who are all anxious to participate in the anticipated action-packed tournament organised by the Georgetown Softball Cricket Association Inc (GSCL Inc).
Delivering the feature address to an audience bolstered by the gracious presence of Public Security Minister Khemraj Ramjattan, Prime Minister Moses Nagamootoo expressed appreciation and honour at being patron of the tournament.
Nagamootoo described softball as a growing sport that is becoming extremely attractive. He contended: "It is not just any sport, but one which is intended to build a sentiment of playing together, sharing and competing on the basis of doing the best."
The Prime Minister indicated that the Office of the Prime Minister would pledge $300,000 towards the new talents that are unearthed in the tournament, which runs from October 27 to 29 at various venues across Georgetown.
Meanwhile, GSCL Inc president, Ian John, revealed that the tournament had been in planning for quite a long period.
John explained that since the Guyana Telephone and Telegraph (GTT) 10/10 tournament, they noticed that they had even talent to successfully produce a tournament of this magnitude.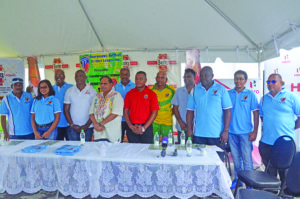 For this reason, he explained, overseas teams would compete against the locals, and no registration fee will be charged for any team. Toronto Cup Masters Softball Cricket tournament 2017 winners, SVC Mafia, and New York Hustlers, along with New York President's X1 and Try State Masters, have all confirmed their participation.
Players must be over the age of 45 in order to play in the Masters category, while the All Stars format is open to all ages.
Teams registering for the Over-45 category must submit photo identification, preferably valid passports for every member of their 15-man squad. The Over-45 category will make the champions $500,000 richer, while in the All Stars category, the winning team will collect $600,000. Both categories will have a runner-up prize of $100,000.
The man-of-the-series for the Open category will be awarded a Hero Dawn 150cc motorcycle, compliments of local distributors Rose Ramdehol Auto Sales; while, for the Over-45 category, a 50- inch flat screen television will be up for grabs.
Teams are asked to be fully uniformed in coloured clothing, given that white balls will be used. The draw will be held a week before the commencement date, and it will be streamed live to accommodate overseas teams.
The organisers further thanked the sponsors: Banks DIH under their Banks Beer, Regal Stationery and Sports, and Rose Ramdehol Auto Sales under the Hero brand.
Registration forms can be uplifted from Regal Store at 69 Seaforth Street, Campbellville, or from any Executive member of GSCL Inc. (Akeem Greene)