…as cutlass-wielding drug addict launches attack
Thirty-two-year-old Harrynarine Ramnawaj of Lot 8 Estate Road, Cane Grove, Mahaica, East Coast Demerara is now dead, and his father, 59-year-old Chandrapaul Ramnawaj of the same address, has been hospitalised after a known drug addict unleashed fury on them with a cutlass because they caught him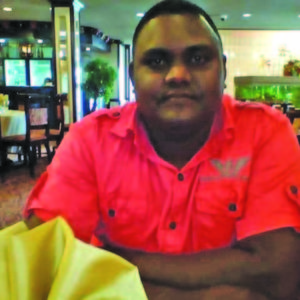 destroying their farm at Estate Road, Cane Grove Mahaica on Sunday.
The addict has been apprehended, and is in police custody assisting with investigations.
Chandrapaul Ramnawaj lost two fingers in the ordeal, and is currently a patient at the Woodlands Hospital in Georgetown.
This publication understands that Chandrapaul Ramnawaj, together with his wife and son, had gone to their farm at Cane Grove Backdam to tend to their crops at about noon, and they encountered the suspect, who pounced on them with a cutlass.
The dead man's sister, Kavita Birbal, said her brother was chopped to the arm, and may have possibly bled out, because he was pronounced dead on arrival at the Woodlands Hospital.
"Me father and brother, when they see (the named assailant) in the farm, he was chopping down the plantains and banana suckers, and then they ask he what he doing; and he didn't wait for nothing, he just start firing chops on them. And my brother first get chop on he (arm) and then he fall down and start bleed out. After he fall down, (the named assailant) run behind me father and fire a chop on he, but he block it and two ah he finger chop off," she said.
"After that he run away, and then me mother start holler, and then some people come help she, and then they rush all two ah them to Woodlands; but my brother died on the way there, and them admit me father," the distraught woman detailed.
Birbal explained that her deceased brother was the father of a three-year-old boy who has just started nursery school, and he had recently secured a job at a local rice mill. She said he would usually assist their father with caring for their cash crops, and was doing just that when he met his demise.
As for the suspect, Birbal told Guyana Times that the man is a well-known drug addict who had threatened to kill her father several times prior to this attack.
"Plenty time he say that he will kill my father when he go to the farm, because he and his wife left and he said he got to get a piece of land to build a house there. But my father would make a report at the station and ask the Police to warn him, because they don't want any court story; and watch what he do today," Birbal said.
The elder Ramnawaj has been farming in the same area for over 40 years.
Police investigations are ongoing.