A father and son are now hospitalised after three armed bandits attacked their Corentyne, Berbice, business, terrorising them.
The incident occurred at about 18:00h at the Lot 6 Cromarty Farm property, where the family operates a grocery shop that is attached to their house.
Injured are 52-year-old Dhirah Kumar and his 22-year-old son, Balram, who was shot to his jaw.
Guyana Times understands that three men – one masked, one carrying a gun and the other a cutlass – entered the grocery store, which Kumar and his son operate.
According to the businessman's wife, 48-year-old Asha Kumar, at the time of the attack, she was preparing dinner for the family when she heard her husband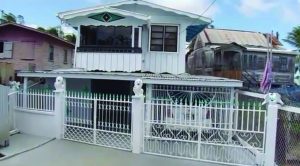 screaming.
"When I run, I see a man with his head covered up. So when I see the bandit, I run and go in the backyard and hide. While hiding, I could hear when they beating my husband – every lash he was hollering and he was telling them "don't, beat meh, I gon give y'all everything! Y'all don't beat me, don't beat meh son"," the still traumatised woman recalled.
The woman continued that she then heard her husband telling the perpetrators that he would give them all the money they had at the business. Guyana Times was told that the elder Kumar handed over $280,000 to the bandits.
However, not satisfied, the bandits continued beating and terrorising the businessman and his son, asking for more money.
"They tell he, "Y'all get more [money]" and they beat my son more, asking "where is the gold". My son said we nah get gold and he tell them take a silver band he had on so they pull off the band and ask "silver y'all does wear, y'all nah get gold" and my son tell he no," Asha Kumar related. The younger Kumar during the ordeal put up a fight and was shot to the left side of his face.
Mrs Kumar went on to say that the perpetrators still continued to beat her husband and son, stamping and kicking them before going to the upper flat of the two storey house and ransacked the rooms. Asha could not say, however, if the men took anything for upstairs. The woman's husband and son remain hospitalised at a private medical institution and are in stable condition.
Meanwhile, the Police have since detained a person for questioning as investigations are ongoing.