A fire of unknown origin has left at least six persons, including three children, homeless after completely destroying their Lot 115 Cane View, South Ruimveldt home on Thursday afternoon.
When Guyana Times arrived on the scene, three fire trucks, along with firefighters, were trying to contain the massive blaze, which had already destroyed a section of the upper flat of the concrete and wooden structure.
The fire reportedly started around 14:00h, according to a resident.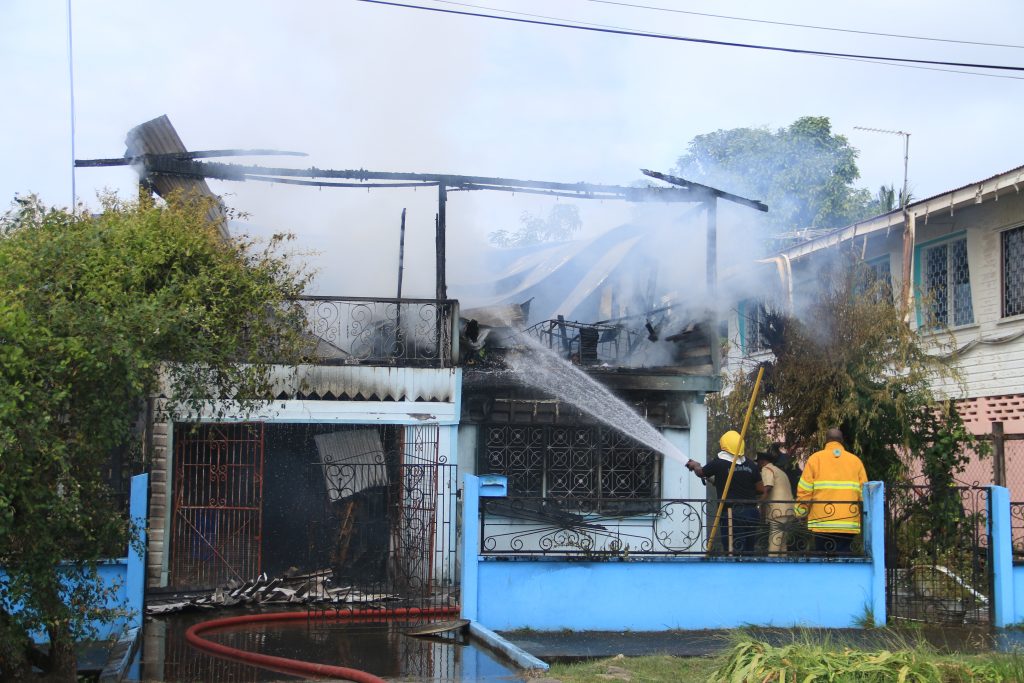 This publication was informed that at the time of the fire, only an elderly woman and her eight-year-old grandchild were at home.
Divisional Operations Officer of the Guyana Fire Service, Compton Sparman told media operatives that the report he received indicated that the elderly woman was in the lower flat of the home, and the child was in the upper flat. The elderly woman reported that she saw the blaze when the child exited a room and as such, grabbed her and immediately evacuated the premises.
"Upon receiving the call of a fire, we immediately dispatched three units. One from West Ruimveldt and two from Central; and equipped with our water and water from the canals, firefighters managed to stop the blaze from spreading on to the other building that you can see is very close," he said.
Additionally, the elderly woman's son-in-law, Ven Chase told media operatives that he was at work when he received the call. The man, who appeared distressed, was questioned as to his next step and said, "Something gotta be done. I don't know, but we gotta start back. Somehow we gotta."
Eyewitnesses at the scene said that they heard an explosion before seeing the red flames on the roof of the house. "It gotta be gas bottle or something. All I hear is boof, boof, boof and the red flames at the top of the house," one man said.
An investigation has been launched.
This is the fourth fire that has been reported for this week. On Sunday, three people, including a one-year-old, perished in a fire at Beterverwagting, East Coast Demerara, after the house was purposely set ablaze.
On Tuesday, another house was set alight by a jilted man at Covent Garden, East Bank Demerara, and on Wednesday, a fire of unknown origin completely destroyed two buildings on Bishop Street, between Princes and Norton Streets, Georgetown leaving at least 11 people homeless and millions of dollars in losses.
Meanwhile, on Wednesday, Fire Chief Marlon Gentle announced that more buildings were destroyed by fire this year so far when compared to the corresponding period in 2016. He also noted that some of those fires were acts of arson.