Xtreme Cleaners/GT Beer Gold Rush Futsal…
Crowd favourites Sparta Boss and Back Circle had managed to progress to the quarter-finals of the inaugural Xtreme Cleaners/GT Beer Gold Rush Futsal Championship when round-robin play concluded on Thursday evening at the National Gymnasium.
Future Stars, Albouystown, Broad Street Bullies, Bent Street, Sophia and Tucville are also progressing to the knock-out rounds.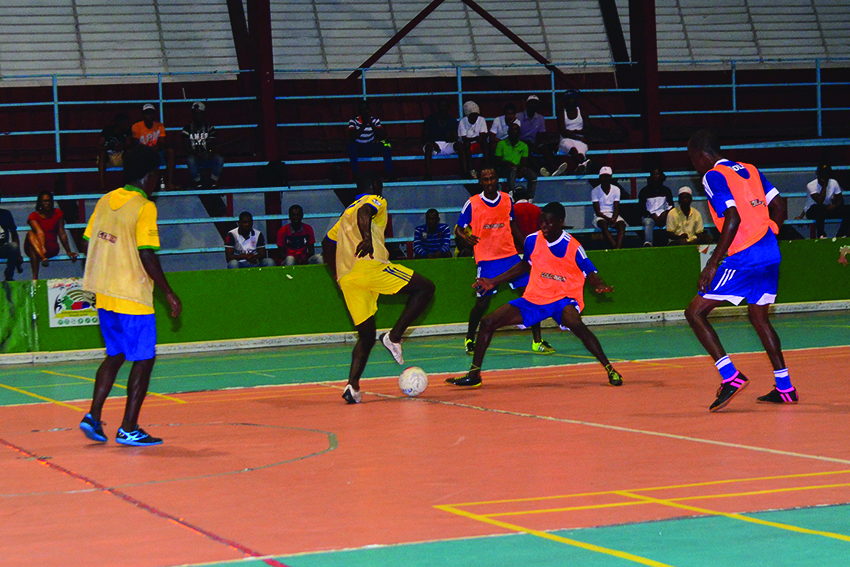 Sparta outclassed Sophia 3-0 by virtue of goals from Solomon Austin (4th), Gregory 'Jackie Chan' Richardson (12th) and Dennis Edwards (14th minute).
Back Circle likewise hammered Tiger Bay 3-0 by virtue of Selwyn Williams scoring a double — in the second and fourth minutes — while Jermaine Beckles netted in the seventh minute.
The thriller of the night came when Tucville overcame a 4-1 deficit to draw 4-4 with Agricola. Orson Francois bagged a brace in the third and fourth minutes for Agricola, while Domini Garnett and Lloyd Matthews netted in the first and eighth minutes. For Tucville, Jermaine Junior recorded a double in the seventh and 15th minutes, while Jahaal Greaves and Raphael Edwards scored in the 12th and 17th minutes.
Bent Street edged Broad Street 3-2.
Keith Caines, Job Caesar and Daniel Wilson netted in the ninth, 11th and 16th minutes respectively. For the losers, Daniel Favourite and Rocky Gravesande scored in the fourth and 10th minutes each.
The quarterfinal matchups are as follows: Albouystown versus Broad Street at 20:00hrs; Sophia versus Bent Street from 20:30hrs; Back Circle battle Tucville at 21:00hrs; and in the final game of the night, Sparta Boss tackle Future Stars from 21:30hrs.
The semi-finals will be played on Thursday, June 15th, while the final is set for Saturday, June 17th.
The winning team will receive $500,000 and the Championship Trophy, while second, third and fourth-placed finishers take home $200,000, 100,000 and $50,000 respectively.
The Most Valuable Player will collect $50,000.
Other sponsors on board are Fas Grafix, Jefford's Distribution and Sales, Giftland Distribution Store, Windjammer International Cuisine & Hotel, and FARMSUP Mining Investments Inc.