Minister of Culture, Youth and Sport, Charles Ramson Jr., held successful collaborative meeting with various sport entities earlier this week at the National Racquet Centre on Woolford Avenue, where he noted that, under his tenure as the Minister of Sport, all sports in Guyana will flourish.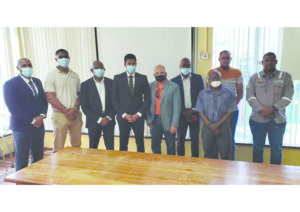 During the meeting with the Guyana Cricket Board (GCB), discussions sought to remedy the current difficulties and constraints faced by the Board in the execution of its mandate to advance the sport of cricket in Guyana. This resulted in a number of collaborative efforts being advanced.
Known for his passion for basketball, Ramson met with president of the Guyana Amateur Basketball Federation (GABF) Michael Singh, and his executives, as well as president of the Georgetown Amateur Basketball Association (GABA) Jermaine Slater, and his team. The basketball fraternity received Ramson's fullest support, as he reminded that he more than dabbled in the sport.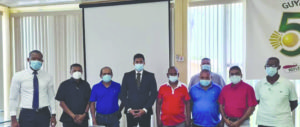 The Minister also had a separate introductory consultation with the President and Executive Members of the GFF. Following the meeting, he was presented with football merchandise.