The Overseas Disturbance football team has donated football gear to two football teams and has promised to beat those teams in the uniforms provided.
On Friday, the Overseas Disturbance football team which is made up of past Berbice players who now reside overseas, presented two sets of uniforms to Arsenal FC of New Amsterdam, Region Six (East Berbice/Corentyne) and one set to St. Ignatius Football Team of South Rupununi, Region Nine (Upper Takutu/Upper Essequibo).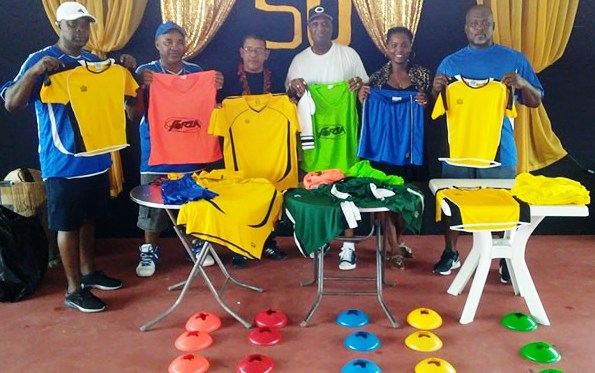 While making the presentation, Colin Wilson said the former Berbice players are always happy to contribute to the future development of the sport locally. He said the team was able to purchase the equipment and training gear, with donations received from Guyanese now living in the diaspora.
In thanking them, he said it is the wish that both teams will do well but the Overseas Disturbance want to give both teams a lesson on the field. They have been trying to beat Heart of Oak Masters for the past decade at their annual encounter during the Christmas season.
Arrangements are being made for a matchup between the Overseas Disturbance and the St. Ignatius team later this year.
Meanwhile, receiving the donation on behalf of St. Ignatius Football Team, Reverend John Rodrigues thanked the Overseas Disturbance team and said it will go a far way. He noted that the hinterland players will be delighted at the donation.
Rodrigues who is a former, National Goalkeeper, National Swimmer, National Cyclist and was the National Flyweight champion between 1982 and 1985, noted that sport plays an important part in the all-round development of youths and called for more youths to be involved in sport in a disciplined way. The donation was made possible through a connection the religious leader has with Owen Humphrey one of the players on the Overseas Disturbance team.
Onefa George who received on behalf of Arsenal, thanked the overseas donors while noting that the club is 38-years-old.
Arsenal has over the years produced several national footballers; among them are the likes of the Ford brothers Adrian and Sherwin Wilbur Hope, James Paul, Richard Felix, Marlon Steel, Kim Khan, Amdeo 'Abor' Hazel and Rudolph Caesar.