The name Stanton Rose Jr is popular among avid basketball fans, both young and old, in Guyana.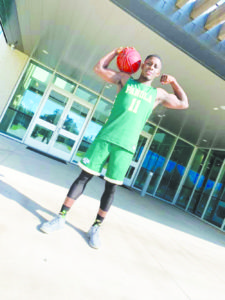 As everyone would recall, Rose's career took flight when he led Guyana to its maiden Caribbean Basketball Confederation (CBC) title in 2018.
Rose has recently been signed with the St Mary's University in the USA, but because of the COVID-19 pandemic, everything has been put on hold until resumption of play is safe. Rose is urging everyone to stay indoors and adhere to the protocols governing the fight against this dreaded disease.This is a young man whose natural skill and talent have distinguished him when he played for Panola College in Texas, USA. In 2019, Rose had said it was his goal to play in the National Basketball Association (NBA), noting that it didn't matter where or whom he played for, once the opportunity given to him allowed him to play for the NBA. He had relayed that, to do so, he must play in the National Collegiate Athletic Association (NCAA) Division 2, and with him now being signed to St Mary's University, he will be able to compete therein.In an interview with Guyana Times Sport, Rose was asked his views on the current COVID-19 situation, and his response was: "My view on the COVID-19 is to stay home, stay inside, adhere to the quarantine rules. Doing this is good; it will help you to focus more on yourself. I really think these precautions are good. "As for me, I am indoors, following the rules of social distancing. As you know, we Guyanese have our own methods (of addressing sickness). We have our fever grass etc, we can use that to help do our body good and keep it safe. I mean, one of the main things in the morning is getting up and exercising. This will be beneficial, as it builds your immune system. "I want to urge everyone to please stay off the road. As long as the death rate drops and it is safe once again, we will be allowed to be outside. But if we disregard this (advisory) and continue to socialize, the death rate will increase and we will be indoors longer. So, please, I'm urging everyone, let us stay indoors and be safe."Whenever this pandemiccomes to an end, Rose will be anxiously waiting to play his first pro-basketball match and attain his dream of playing in the NBA.