− As Tax handbook launched
Charted Account and Attorney-at-Law Christopher Ram has stated that the State Audits which have been conducted over the last several months did not address some of the issues related to the Value Added Tax (VAT). He made these comments at the launch of the Second Edition of the Ram and McRae Accounting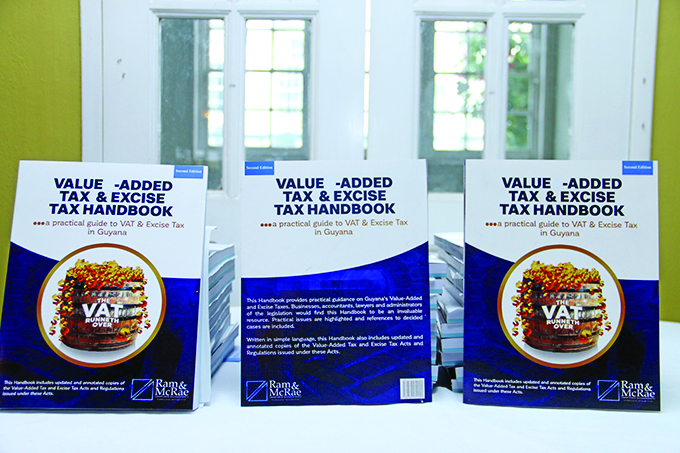 firm 180 page handbook, at the Georgetown Club on Monday evening.
The book contains 12 chapters and cites 84 different tax cases, it also has detailed information on the local VAT Act, Excise Tax Act, and other tax regulations.
One of the concerns Ram highlighted, relates to the implantation of the VAT to mobile data plans. Another issue Ram stressed, that was not reportedly sought after in the audits, was that some companies charge consumers VAT without the requisite legal authority.
"We know of people who have charged Value Added Tax and are not even registered and that is criminal and the State needs to be more careful… the State Audit might be interested in this because the State Audits have largely ignored Value Added Tax," Ram told the gathering.
Meanwhile, he also noted that based on an analysis, a nexus can be drawn that VAT, upon its introduction a decade ago, contributed to a spike in inflation.
"When VAT was introduced in the year of introduction, inflation doubled from 7.2 per cent to 14 per cent, so the chances of inflation which would affect interest rates, exchange rates, profitability. You can see the spike in 2007, when VAT was introduced," the accountant noted. He indicated the importance of placing emphasis on VAT as it is one of the "major sources" of tax revenue in Guyana. He also pointed out that Budget 2017 has "understated" the revenue from VAT.
Highlighting some of the features of the $30,000 handbook, Ram has explained that the book will show the differences between zero-rated, standard-rated and exempt supplies; VAT calculations for registered businesses and for inclusive pricing. Ram's book will further explain how to establish and maintain a VAT account; in addition to a 'Civil and Criminal Offences and Penalties' Table.
Ram also told the gathering that his Anti-Money Laundering handbook will be available from March at a cost of $25,000.