Addressing the inaugural Business Development Forum hosted on Friday by the Georgetown Chamber of Commerce and Industry (GCCI) at the Pegasus Hotel in Kingston, Georgetown, Business Minister Dominic Gaskin advised the Private Sector to stay clear of politics until the time comes to fund elections; and to focus its attention on what it does best: the creation of business.
The minister managed to raise quite a few eyebrows with his declaration.
"I believe that the Private Sector should concentrate on business and stay out of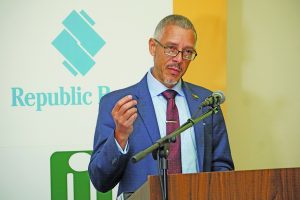 politics; at least until the election season comes around, when you can decide which parties you want to support or which candidates you want to fund, because funding is of course a very key component of the election campaigning process. But certainly, in the off-season, you need to concentrate on business, and Government is supportive of that… Let the private sector do what it does best: compete, comply and get compensated," he said.
Gaskin elaborated that, for far too long, Guyanese have been blaming bad politics in Guyana for bad business practices, as he compared Guyana to other countries.
"I know that for a long time we have blamed bad politics in Guyana for bad business practices. I think if we look at many other countries, the political climate is much, much worse. The language, the discourse, the levels of disaffection are way higher and much more toxic than it is in Guyana, and these countries continue to see strong Private Sector confidence and strong economic growth and performance," Gaskin declared.
"If we are going to speak about business development, I believe we certainly should be speaking about SUSTAINABLE business development; and when we speak about sustainability, we have to look far into the future and ensure that what we are doing or seeking to do is actually sustainable in the long-term. And the long-term has to take into account future generations of Guyanese whose wellbeing will depend on the economic foundation that is laid by us who are alive today," Gaskin declared.
The President of the GCCI had, moments before, given remarks highlighting the need for political stability for business growth.
"Political stability is one that guides investment… When, as a business person,
you are making sizable decisions for investment, stability is one of those things that must be a main ingredient…," Indar had noted.
He iterated that the programme, which commenced on Friday and wraps up today, is intended to expand local businesses.
"This session is aimed at providing you with avenues to meet specialists… That's how we do business… That's how we go forward in building from weaknesses to strengths," the president of GCCI added.
Back in June, the GCCI launched its Business Development Forum with the aim of expanding all businesses, whether small- or large-scale.
The two-day workshop will focus on areas such as access to capital, insurance policies, incentives for investment, export market readiness, donor agency funding, modern marketing tools, registration, and compliance.
The event is being hosted in partnership with the Guyana Revenue Authority (GRA); Nations University; the Arthur Lok Jack Global School of Business; Republic Bank Guyana Limited, and the Inter-American Development Bank (IDB). A fee of $20,000 is attached to the two-day event.