Early season classic
Despite CARIFTA 2020 being cancelled and the Tokyo 2020 Olympics remaining in limbo due to the coronavirus, the Athletics Association of Guyana (AAG) gave local athletes the opportunity to exert their energy over the weekend, with hopes of bettering their personal best performances.
The fact that the competition comprised of a mixture of senior and junior athletes made the victories even sweeter for those who were bent on proving their invincibility.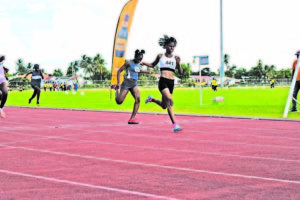 Two such athletes were Police Progressive Youth Club's Hannah Reid and Guyana Defence Force's Akeem Stewart who dominated the 200M sprint and were not only proud of their performances over the weekend but have their eyes set on future improvements.
The female winner, Reid, shared with this newscast her thoughts about the race.
"In the race, I had a good start, I want to thank God for his strength. But for the finishing, I could have relaxed more but I'm still happy."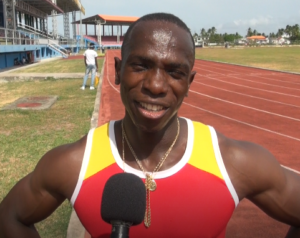 For the 16-year-old Reid, the run was all about hitting a personal best time, which would have booked her ticket to the CARIFTA Track and Field championships, had it not been cancelled. Nonetheless, the young woman still expressed her optimism.
"It's not about the space or winning, it's the time that matters. I hope it's good enough, I believe that it is," Reid shared.
On the other hand, Akeem Stewart, who is no stranger to the track, detailed how he had to bounce back to bag a win.
"At the start, in know I had a powerful dry phase and a great reaction to the gun. Yesterday I wasn't so lucky in the hundred, being left in the blocks, but today I got it right and I always believed in my strength coming home, so it was well executed on my behalf," Stewart said.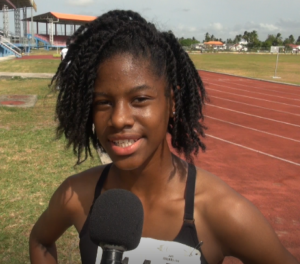 Highlighting his shaky performance in the 100M dash, in which he finished third, the 29-year-old spoke extensively on his doubts about his fitness and shared that it took some encouraging words from his coaches for him to find his groove.
"It feels really great cause I haven't been consistent in the last three weeks. I thought that I lost some level of fitness, but I'm still above average. I had a talk with my coach Chisolm and Julian Edmonds who have been looking over my fitness and I was told that I'm still there after a couple of sessions I'm going fall back in place. I'm grateful."
With an eye on the future, Stewart expressed his optimism about the Tokyo 2020 Olympics staying on course and cited qualification for the event as one of his main goals.
"This is my second competition for the year, third 200M, I had great timings. I ran my first 100M yesterday with my fastest season opener ever since 2011, so we're on track to qualifying for the Olympics at least by May month-end," the Sprint athlete disclosed. (Jemima Holmes)