Education Minister Nicolette Henry is urging all students and teachers to be prepared for the reopening of schools and the new term which begins on Monday.
In an interview with the Department of Public Information (DPI), Minister Henry expressed that it is important that students be focused and work hard to achieve their goals. She added that this is necessary as they seek to keep climbing the ladder of success in their effort to contribute greatly to the country's human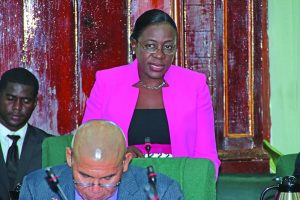 resource pool.
"The message is consistent, you must ensure you maximise the time in school. The education system stands to provide support to whatever is needed," Minister Henry said.
She further encouraged students to grab all the opportunities available to them as there is now a better pathway in the school system when compared to the immediate the past.
The Minister also acknowledged the importance of teachers and urged that they keep up the good work.
In her brief visit, Minister Henry went to the St Joseph's High, Richard Ishmael, Brickdam Secondary and the North Ruimveldt Multilateral School.
The Minister explained the importance of her visits which she noted is to inspect the state of the school's environs before the country's young minds return for the new academic term.
"There will be maintenance work to be done from time to time and schools are no exception. What I am looking at here is preparation for the opening. It's is not the maintenance schedule for 2019," Minister Henry said. She further explained that the maintenance schedule for 2019 is very long with provisions to execute several works drafted out by the Ministry of Education. The Minister will continue her visits to several other schools around the city over the weekend.