Xtreme Clean/GT Beer 'Gold Rush' Futsal Tournament
‒ Albouystown whip Sophia for 3rd place
Orchestrated by Gregory Richardson's helmet-trick, Sparta Boss produced arguably one of their most memorable performances to defeat Tucville 7-4 in the final of the Xtreme Clean/GT Beer 'Gold Rush' Futsal Tournament at the National Gymnasium.
The blockbuster clash, which went into the wee hours of Sunday morning, was filled with non-stop action from the blow of the whistle; and the result does no justice to the intense spirit of competition that prevailed in the match.
Tucville's Dennis Edwards, in the 10th minute, evoked thunderous cheer from the partisan crowd with a stunning right-foot volley that gave his side the lead.
Sparta had a chance to equalise soon after with a barrage of shots, but were kept at bay by the steely goal-keeping of Leon Sealy.
As soon as calm was restored to the proceedings, Richardson turned to his right and slipped one past an outstretched Sealy to level the scores in the 20th minute, much to the delight of Sparta's numerous fans.
Eight minutes later, Dennis and his brother Raphael responded, scripting together an impressive set-piece, with Dennis scoring from the left side with his right foot, to end the first half in Tucville's favour.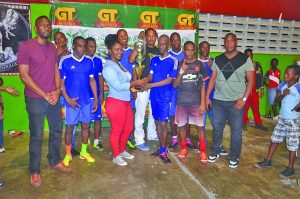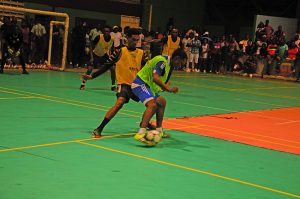 A decisive second half changed the complexity of the match. In the 32nd minute, Sealy made a lapse, spilling the ball into the path of Eusi Phillips, who nonchalantly dabbed the ball in the goal to draw his side level.
One minute later, Richardson slipped one in with his left foot, and Tucville suddenly began to look ragged. Devon Millington then did a cheeky back-heel in the 46th, Sheldon Shepherd scored in the 52nd, and Richardson struck again in the 53rd as Sparta began bossing their way again.
Jermaine Junior responded with goals in the 54th and 55th minutes, but by then the match was far from Tucville's grasp. To cap a splendid performance, Richardson then added his fourth goal, in the 57th minute, and Sparta fans swarmed the court at the blow of the final whistle.
For their efforts, Sparta won $500,000 and the Championship Trophy, while Tucville received $200,000 and the respective accolade. Richardson won $50,000 for being the Most Valuable Player, and Junior was the highest goal scorer with 11 goals.
Meanwhile Lennox Cort's hat-trick ensured Albouystown won against Sophia 5-3. Cort netted in the 3rd, 10th and 20th minutes. Roy Cassou (9th) and Sherwin Fordyce (14th) were the other two marksmen.
Omallo Williams (19th), Shem Arthur (25th) and Dwayne Lowe (38th) scored for the opposition. Albouystown won $100,000 while Sophia took home $50,000.
Prior to the start of the final, Minister of State Joseph Harmon and Director of Sport Christopher Jones greeted both teams. (Akeem Greene)