With the aim of gaining more consideration towards their cause, sugar workers attached to the Wales Estate, on the West Bank of Demerara, will lead a protest in front of the Ministry of the Presidency today. This action is based on the employees' long held frustrations over the non-payment of severance packages, which were promised since December 2016. Guyana Times understands that the workers will also protest Parliament Buildings during this afternoon's sitting of the National Assembly.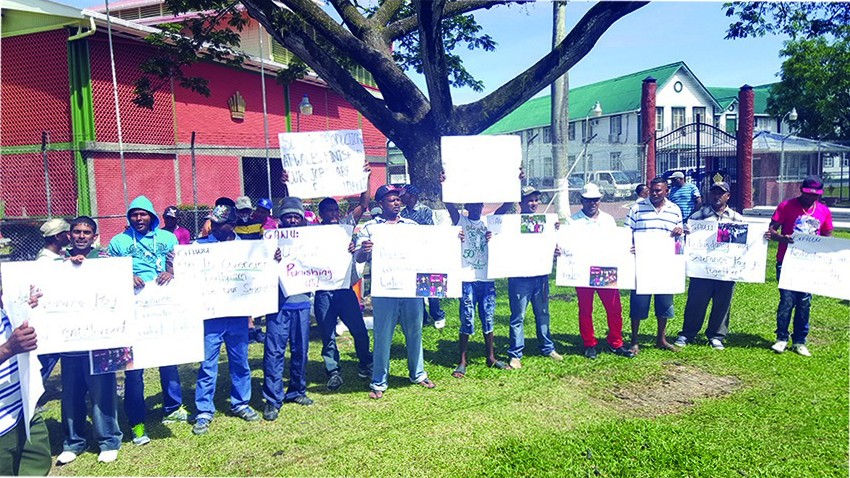 The workers' contention is that they cannot be compelled to travel to the Uitvlugt Estate on the West Coast of Demerara, which is some 22 miles from Wales. The employees have been protesting for over two months but the Agriculture Ministry is contending that all workers who requested severance were already paid.
Guyana Times was however recently informed otherwise as reports reaching this newspaper indicate that some workers who requested severance from the onset are still owed. A welder, who had over five years of service before he left his employment at Wales, told this publication on Sunday that he is yet to be paid. He related that he was never part of the protest action.
At Monday's protest at Wales, the workers explained that they are finding it difficult to get consistent employment and as such, are struggling to make ends meet. They also said that their finances are reducing since they are unable to garner five-day work week jobs. Michael Chotoo told this publication that he is finding great difficulty with sending his children to school who are aged 15, 13 and nine years respectively.
The workers have repeatedly called on the Head of State and the Prime Minister to look into their concerns.
"Not even to de Prime Minister, not one of them come to solve our problems. Leh dem come look into our matter, we need them here because this is our President and he has to show us that he cares for us," sugar worker, Rahim (only name) expressed earlier this week.
This publication was told that at last Thursday's meeting with workers, Estate Manager Dave Kumar had reportedly reiterated the Guyana Sugar Corporation's stance that employees must go to Uitvlugt but sugar workers claimed that they had received threats to the effect that their names would be taken of the payroll at Wales. The sugar workers have been protesting over the last two months. At one of their many demonstrations, the workers reminded that President Granger and Prime Minister Nagamootoo had committed their support to the sugar industry in the run-up to the 2015 General and Regional Elections. However, when Government had confirmed the end of sugar operations at Wales Estate last year, it was explained that cost was the main factor for the entity's closure. Government has since expressed that only three sugar estates will remain operational in Guyana.