…will connect oil & gas producers in Region
President Dr Irfaan Ali, presently leading a delegation to the Suriname Energy, Oil & Gas Summit & Exhibition, has said that a regional energy strategy that will connect the oil and natural gas producers in the region will be presented in a few weeks.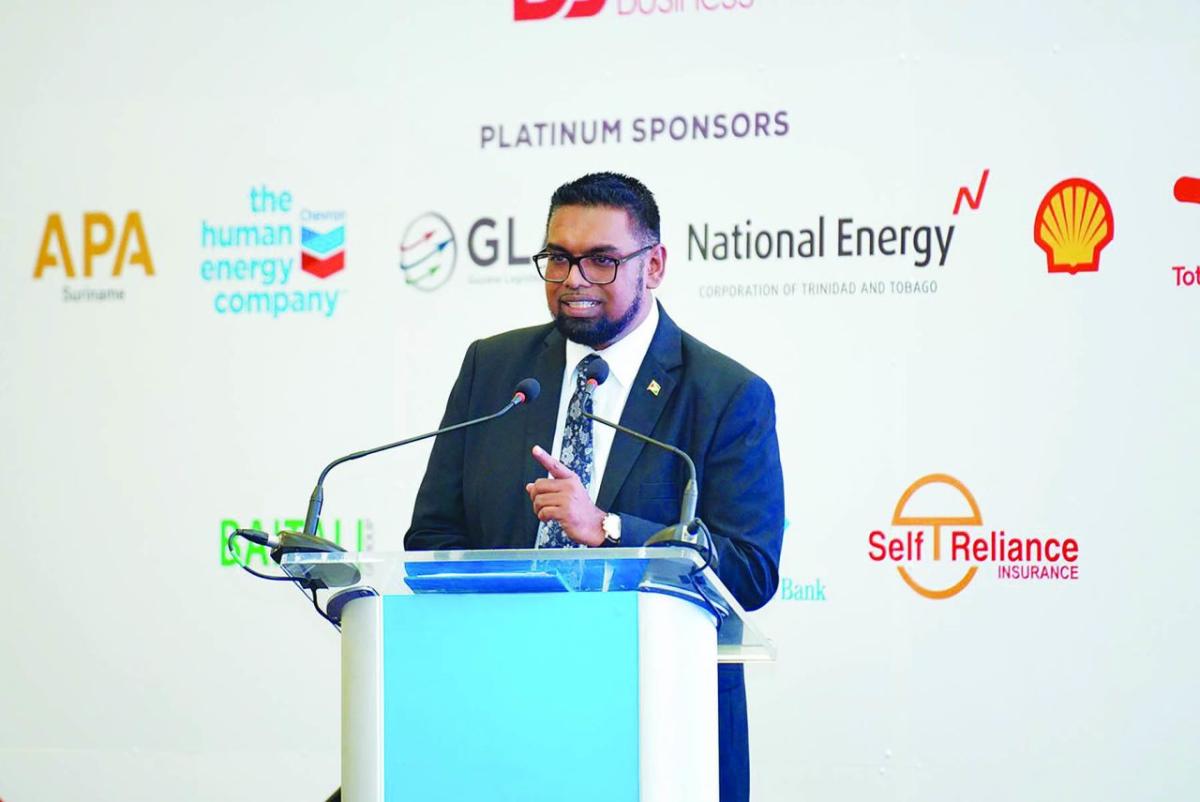 The Suriname Energy, Oil & Gas Summit & Exhibition 2022 is currently ongoing in Paramaribo, Suriname from June 27 to 30. President Ali, in his address to participants, spoke of the efforts of the oil and gas countries in the region, including Guyana, to come up with a joint plan of action.
These countries include Guyana, Suriname, Trinidad and Tobago, Brazil and even Barbados, which has natural gas potential… most of whom are Caribbean Community (Caricom) countries. According to the President, a full strategy on energy will be presented in Suriname in a few weeks.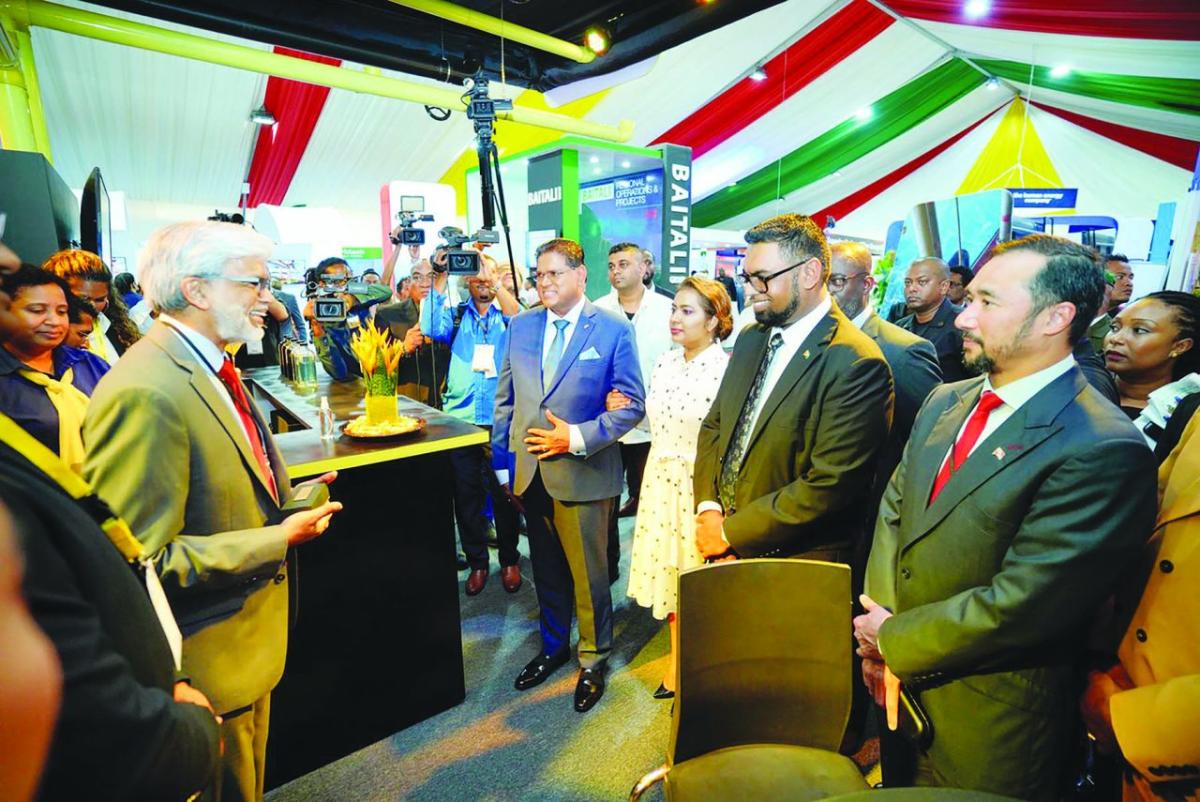 "In the midst of global crises, Caricom members like Guyana, Suriname, Trinidad, Barbados with the possibility of natural gas, we have to come together to advance a solution not only for the region but one that incorporates Northern Brazil especially," President Ali said.
"And that is Guyana and Suriname must work aggressively. We must remove bureaucratic delays and advance this project with dynamism and aggressively. And also, we have to work on unlocking our natural gas potential… right here in Suriname, we're hoping that a full strategy can be presented on energy and that strategy will be made available."
According to President Ali, they are paying keen attention to the opportunities that the regional strategy and an integrated regional project can provide. He explained that this was one of the topics of discussion, when Trinidad and Tobago (T&T) Prime Minister Keith Rowley paid a visit to Guyana last month for the Agri-Expo and Summit.
"And we've started some discussions with Suriname on our combined ability to work with Brazil on creating an energy corridor and unlocking the potential for a series of manufacturing and industrial development."
"Recently, Prime Minister Rowley was in Guyana. And we initiated some discussions too, in the interest of the Government of Trinidad and Tobago, working along with us in unlocking some of these potentials," President Ali said.
Strategic
Meanwhile, Suriname President Chandrikapersad Santokhi, in his remarks, said strong strategic alliances combined with the generation of cheap energy will ignite new industries, create regional opportunities and guarantee prosperous lives for those in the region while adding sustainable revenue opportunities.
After the opening ceremony, President Ali took a tour of the exhibits, where he interacted with representatives from a number of companies, including those from Suriname and a few from Guyana.
There has been talk of an energy corridor for some time, with the Inter-American Development Bank (IDB) conducting both baseline and pre-feasibility studies. Guyana is in fact a party to a Memorandum of Understanding on the Northern Arc (Arco Norte) Interconnection Project which seeks to evaluate the feasibility of a possible collaboration on the energy transmission system for the electric interconnection of Guyana, Suriname, French Guiana and the northern cities of Brazil.
The Bank had stated that the main benefits of such a project would be lower-cost generation for all countries involved; potentially lowered electricity prices for consumers in Guyana and Suriname; more secure supply; reduced carbon dioxide emissions and export earnings, especially for Guyana.
Guyana meanwhile plans to pipe gas from the Stabroek Block offshore, where oil production and exploration activities are ongoing. Similarly, Suriname is also a new oil frontier. With the growing hydrocarbon discoveries offshore these two neighbouring countries, expectation is that the gas in the Guyana-Suriname basin would be used to power this Arco Norte corridor.
The scope of the US$900 million gas-to-shore project consists of the construction of 225 kilometres of pipeline from the Liza field in the Stabroek Block offshore Guyana, where Exxon and its partners are currently producing oil.
It features approximately 220 kilometres of a subsea pipeline offshore that will run from the <<<Liza Destiny>>> and <<<Unity>>> Floating Production Storage and Offloading (FPSO) vessels in the Stabroek Block to the shore. Upon landing on the West Coast Demerara shore, the pipeline will continue approximately 25 kilometres to the NGL plant at Wales, West Bank Demerara.
The pipeline would be 12 inches wide and is expected to transport some 50 million standard cubic feet per day (mscfpd) of dry gas to the NGL plant, but has the capacity to push as much as 120 mscfpd.
The pipeline route onshore will follow the same path as the fibreoptic cables and will terminate at Hermitage, part of the Wales Development Zone (WDZ), which will house the gas-to-shore project. (G3)