…lad remains hospitalised after suffering fractured skull, internal bleeding
A young man who brutally attacked, assaulted and robbed a 12-year-old schoolboy is currently on the run.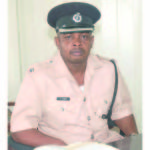 This is according to Police Commander of Region Three (Essequibo Islands-West Demerara), Assistant Police Commissioner Simon McBean, who told Guyana Times on Friday that to date, several attempts to apprehend the suspect at his home were unsuccessful.
He pointed out that the 12-year-old, Irshad Ali, who attends the West Demerara Secondary School, West Bank Demerara (WBD) disclosed to the investigators that his attacker was a well-known person in his village.
The grade seven student told the cops that although he is unaware of his attacker's name, he is known to villagers as "black boy", and upon further investigation, the Police were given the address of the suspect.
However, the perpetrator could not be found at his residence and Police are intensifying their search for the man.
On Monday, young Ali was attacked while riding his bicycle on his way to his Pouderoyen, WBD home from school.
Reports are that between 15:30h and 16:00h, the lad was pedalling his bicycle through the Coglan Dam Street, the route he used to travel home after attending classes when an adult pedal cyclist rode behind him.
The youth continued along the street but was unaware that the person trailing him had ill intent. The perpetrator then used a heavy object to hit the boy behind his head, rendering him unconscious, while making good his escape with the youth's cellular phone.
Persons in the street noticed the youth lying on the road and quickly contacted his aunt who arrived at the scene.
He was then rushed to his home in an unconscious state and his father transported the unconscious child to the West Demerara Regional Hospital (WDRH) for emergency treatment.
According to the child's father, Ameer Ali, his young son was admitted at that health facility and a battery of tests was conducted, including a Computed Tomography (CT) scan.
The CT scan revealed that upon admittance to the hospital, the young Ali had suffered a fracture to his skull and was bleeding in his head.
His father stated that he regained consciousness shortly after treatment began and that his son is now in a stable condition. However, he is still hospitalised since medical staff recommended that he is "kept for observation".