The 12th edition of the South American Games commenced in Asuncion, Paraguay on Saturday, October 1st, 2022, and there are 16 Guyanese athletes representing the Golden Arrowhead. Present at the Opening Ceremony were Guyana's Badminton contingent, comprising Priyanna and Narayan Ramdhani, Akili Haynes, Coach Naeem Haque and Chief-de-Mission Keavon Bess.
While Badminton is the first sport to spring into action, Table Tennis activities will commence on October 8th, and the Guyanese team are hoping to better their performance this time around.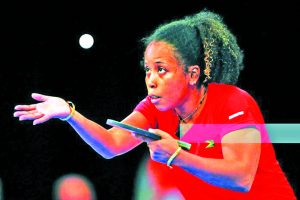 Just two months ago, a number of firsts were achieved for Table Tennis in Guyana, as a team competed well at the 2022 Commonwealth Games held in Birmingham, England. Natalie Cummings had her name become a standout at those Games, as she helped Guyana reach the Round of 16 in the Women's Doubles for the first time ever. Along with Olympian Chelsea Edghill, she broke into the Round of 16 in the Women's doubles. Shemar Britton and Christopher Franklyn did likewise for Guyana in the Men's Doubles.
Reflecting on their performance at those Games, held between July 28th and August 8th, Cummings expressed the eagerness to medal that their historic performances had triggered.
"It's nice being the first, but I hope it's not the last for us, because we haven't been able to get a medal at Commonwealth, and that's something I'm hoping we'll be able to (overcome) through investment and more preparation into the sport," the Table Tennis player shared with this publication.
She added, "That's my plea, and what the entire Guyana contingent has been pleading for: for more support for the Guyana team, in order to get to that medal round."
Now that the South American Games have commenced, Cummings and other players have been given another opportunity to go for 'the long haul', and Cummings has highlighted how important it is to medal, and how the team intends to do so.
She posited, "We are not comfortable anymore with just having historic finishes. We just want to get that medal for ourselves and for our country."
Speaking about their expectation to continuously improve their performances, she said, "We have the South American Games coming up; so, hopefully, with a lot more preparation than we had leading up to Commonwealth, we are able to secure a medal. We want a medal, historic performance is not it for us, we just want to medal! Just give us the support, and we'll try to do that," she assured.
The South American Games would run from October 1st to 15th, and Guyana would be represented by a 6-member table tennis team comprising Natalie Cummings, Chelsea Edghill, Priscilla Greaves, Shemar Britton, Christopher Franklin and Elishaba Johnson. They are being coached by Idi Lewis.