– prosecution scolded for failure to produce a single eyewitness
Chief Magistrate Ann McLennan on Thursday upheld a no-case submission made by defence counsel as she ruled that the court finds the prosecution failed to establish a prima facie (first-impression) case against Noel DeFreitas who was accused of causing the death of a pedestrian earlier this year.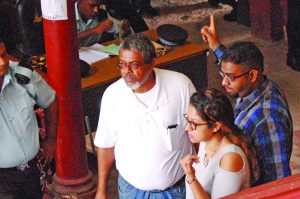 The charge detailed that on January 24, 2017, DeFreitas drove in a manner dangerous to the public along Mandela Avenue, Georgetown, thereby causing the death of Maurice Nurse.
Nurse was reportedly walking along the road when he was struck by the alleged speeding driver. Bail was granted to the accused in the sum of $800,000 when DeFrietas first appeared before the court, despite the objection of the prosecution.
In the weeks leading up to the ruling, the Chief Magistrate had scolded the prosecution for lagging and failing to present witnesses to the court, causing her to set two consequent pre-emptory trial dates, Thursday being the final.
In her summing-up, the Magistrate cited authorities in presenting the ratio decidendi (reason for decision) to the court while declaring that there was no strength in the prosecution's case in that they had presented no eyewitnesses to testify during trial. Moreover, she posited that based on the examination of evidence presented by the prosecution, the court finds that there was no evidence that the accused was speeding, thus it could not be inferred that a reasonable and competent driver would've driven in a different manner (than that of the accused).
McLennan further declared that the prosecution had failed to prove all the essential elements and the measly evidence presented during the course of the trial was insufficient to incriminate the accused.
In conclusion, she deemed the circumstances under which Nurse lost his life as an unfortunate incident, while upholding the no-case submission proposed by the defence.
A relieved DeFreitas exited the courtroom, a free man, flanked by his lawyer and family members.