A 28-year-old taxi driver, who allegedly killed his friend during a row over $500 and parking space, was on Monday remanded to prion.
Troy Griffith of Lot 6 'B' Carol's Place Mocha, East Bank Demerara, was slapped with a murder charge and appeared before Magistrate Sunil Scarce at the Diamond/Golden Grove Magistrates' Court.
It is alleged that Griffith killed Quincy Weekes, also known as "Balu", at about 08:15h on September 14 at Mocha Access Road and Providence Public Road, East Bank Demerara.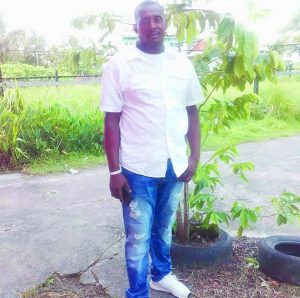 Reports are that Weekes, a 41-year-old taxi driver of Lot 31 Nelson Street Mocha, EBD, and Griffith were arguing when the suspect reportedly stabbed him.
According to reports, the duo had an argument over parking space as they both were 'working taxi' in the area. The men would take passengers from the head of the Mocha Access Road into the village and vice versa.
When Guyana Times visited the home of the dead man, his uncle, Ryan Weekes, had said that the parking space argument was not the entire story.
"… I heard when he came in around minutes to eight to carry his son to school. When he come in this morning, he turn and say 'if y'all see I ain't come back, must know that I deh in the lock-up'."
"I ask he what happen to he and he say Troy give [him] some thousand dollars to change the other day and he gave him [Troy] $500 change and he had a wuk to go over the river and come back. He say when he come back he give Troy [the suspect] the other $500 and Troy keep saying he didn't give he the $500."
"He told me that every time his car load for him to come to Mocha, Troy blocking he car," the man said.
The man said after relating this to him, his nephew immediately walked out of their home and asked the uncle to drop his son at school.
Meanwhile, the dead man's grandmother, Shirley Weekes, said that while her grandson was walking out of the yard, she called him back and offered to pay the suspect the $500, but he refused. The family said within minutes of him leaving, they received the news that he was killed.
"He said 'granny, no, I already give this guy his money already'… his uncle said 'Balu, is no need for ignorance, collect the $500 and give the man', and he said no, he paid him already," she recalled.
The man's uncle added that when he got to the scene, he was told that his nephew and Griffith had an argument and his nephew was pulled from the driver's seat of his vehicle, and the men began scuffling.
The suspect then armed himself with a knife and dealt Weekes several stab wounds about his body, causing him to fall to the ground.
Meanwhile, Police in a report revealed that when they arrived on the scene, the body of Weekes was seen lying motionlessly in a pool of blood. He was later pronounced dead.
The case was adjourned to November 18.