A taxi driver of East Canje, Berbice was on Wednesday taken into Police custody after three kilograms (3000 grams) of ganja was found in his motor car. The car was reportedly intercepted at a roadblock at Weldaad Police Station, West Coast Berbice (WCB) and a search was conducted.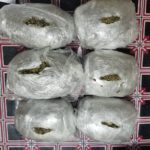 During the search, six wrapped parcels of seeds, leaves, and stems suspected to be marijuana were found hidden in the back bumper of the vehicle.
The driver was told of the offence, arrested and the drug was weighed in his presence. The 28-year-old man is being processed for court.
In the latter part of December 2019, a 26-year-old man was arrested and charged after 46.25 kilograms of ganja were discovered in his car at a roadblock at Weldaad Police Station, WCB.
It was reported that on the day in question, ranks intercepted the motor car and conducted a search and found concealed, 35 parcels of suspected cannabis. The drug was weighed and amounted to 46.25kg.