A parent has accused a teacher of placing a knife to the neck of her 8-year-old child while making threats in school.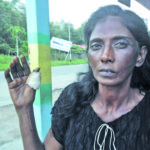 The incident reportedly took place on Tuesday at the Latchmansingh Primary at Bush Lot, West Coast Berbice, Region Five (Mahaica-Berbice).
The child's mother, 38-year-old Haywattie Rampersaud is alleging that the teacher committed the act when no one was around. She claimed that the teacher had been carrying the knife around in her waist.
She related that the incident took place during the mid-morning break when her daughter was using the inside stairway.
"She told me that the teacher come up to her and take out the knife from her waist and put it to her neck."
The child was allegedly instructed not to visit her eldest sister, who is the teacher's neighbour. After promising to comply with the teacher's wishes, the child was warned not to report the incident.
The child reportedly returned to her class in tears and refused to tell her peers what the matter was.
She also did not report the incident when she got home but was refusing to go to school the following day.
After insisting that she has to go to school, the mother of nine related that it was then that she was told of the incident involving her daughter and the teacher.
Rampersaud revealed that she then took her daughter with the intention of taking her to the Head Teacher of the school but instead she confronted that teacher on her way to the school.
"I ask her why you put a knife on my daughter's neck? And she raise her hand to slap the child and I hold her hand back and tell her that she cannot slap the child in my presence. She pull out a knife from her waist and pelt a stab to catch me on my throat and I bar with my hand and the knife catch me hand, pass through my finger," the woman said as she displayed a wound on her right thumb.
"When I back off and she pull a next one across my face. I had to run away because I did not have nothing and I had no intention shedding the blood of any teacher or to hit any teacher," she said.
The matter has been reported to the police.