A 19-year-old father of a one-month-old baby lost his life tragically on Wednesday afternoon when the motorcycle on which he was traversing crashed into a diesel truck resulting in him being crushed to death.
Dead is John Walcott of Lot 367 Westminster, West Bank Demerara (WBD).
Reports are the accident occurred at about 14:00h while Walcott, who was a pillion rider at the time, was heading to a friend's home in Wales, WBD.
Guyana Times understands that the duo was proceeding at an extremely fast rate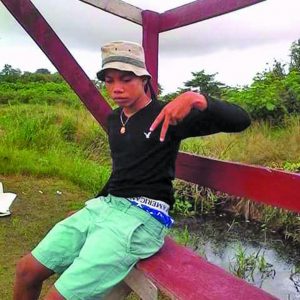 when the rider lost control of the motorcycle and slammed into the fuel truck causing Walcott to be flung under the vehicle.
As the driver of the truck with licence plate GJJ 3746 attempted to stop, Walcott's head was crushed in the process. When this publication visited the home of the young man, his family were all distraught.
His mother, Desiree Walcott, who was informed of the accident at her place of work was unable to speak. The teen's child's mother who was seen with his one-month-old was also inconsolable.
His aunt Shondell (only name given) explained that she was at home when she received a call from her niece who informed her of the tragedy.
"My niece call and say, you heard what happened with John? I say don't tell me another thing, that he dead or anything like that so I put down the phone and I started to scream. Later, I call he sister and I say, you heard what happened with John and she say that she ain't know but that he (John's) child mother call and say some accident and he die, I seh no is just a joke. So I called my aunt who work at the Home Affairs Minister, and she supervisor answered the phone and I asked them if they know anything about Desiree son and she said that somebody did call and say that she son get in an accident and he may have died," the woman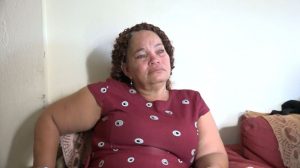 relayed.
Further, Shondell explained that she then headed to the West Demerara Regional Hospital where she received confirmation that Walcott had indeed died.
"They said yes is truth he died so I go over to Ezekiel Parlour. The people there didn't want us to see him. I begged them just to make certain is the right person. I recognise him, his face is unrecognisable, it's disfigured … and his foot because he was in an accident couple months ago." the aunt recounted.
Walcott almost lost his life in April 2018 when his motorcycle had collided with a hire car at Patentia, WBD.
According to reports, the accident occurred on April 10, 2018, at 09:50h when the car, HC 7212 – which was headed to Vreed-en-Hoop, WBD; driven by Cyril Joseph, 59 – attempted to overtake another vehicle. Information from eyewitnesses stated that Walcott's CJ 668 motorcycle came head-on into Joseph's Toyota car.
Walcott was thrown into the air and landed some 30 feet away, leaving bloodstains on the roadway. He had suffered serious injuries to his foot, arm and groin which caused him to undergo surgery.
According to the account provided by ranks attached to Wales Police Station, Joseph, a former Wales Estate worker from Sisters Village, WBD, was proceeding north along the western carriageway while the teenager, proceeding in the opposite direction on the eastern side "swerved" in a zigzag manner, into the car's path. According to Police account of the events, the car driver then swerved to the eastern side to avoid the motorcycle, after which the motorcyclist supposedly swerved back to the eastern side and struck the left side of the car.
Walcott leaves to mourn his girlfriend, child, mother and four siblings. An investigation has been launched.