Nineteen-year-old Naheeryah Newland, a science student at the University of Guyana has created a line of skincare products, NereSkin, that have transformed the skin of many.
Reflecting on the birth of NereSkin, Newland shared that she struggled with acne for quite some time, and with her love for experimenting, she created a product to clear her skin and now it has helped other persons to clear theirs also.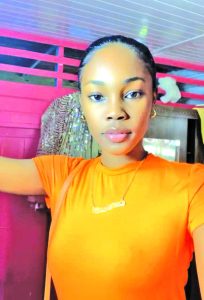 "So as a science student and I really, really love experimenting. I started making soaps to help with my acne… and strangers or people that know me saw…great improvement within my skin… [they started] complimenting me and asking me what I'm using because they're seeing, like, improvements. And I told them what I was using, which is the soap and then they encouraged me to, like, sell it, so they can have some," Newland told this publication.
Since its launch in March of 2021, NereSkin has worked wonders for a number of Guyanese men and women to correct hyperpigmentation, rid acne scars, smoothen skin and brighten their complexion for a visible glow.
This is proven by the many testimonies given by Newland's clients, who have shared their appreciation for the products and have revealed how the transformation of their skin has boosted their confidence tremendously.
"I have been using your face oil for dry skin…Since I used your face oil, I have seen great improvement in my skin's texture. No more flaky skin for me. Again, I am truly amazed at the products," one customer related.
Another shared, "I absolutely love the infused oil and turmeric soap…this infused oil…is my favourite because when I apply the oil at night and wake up in the morning, my skin feels amazing."
The thriving entrepreneur of almost two years shared that balancing business and studies gets a bit hectic sometimes, however, she is determined to keep pushing ahead to accomplish all of her goals.
"I'm still a student and I mean balancing the business and being a student can be extremely hard because…it's two things you love and you have to give both your best. So sometimes I don't give my business as much attention as it needs. Sometimes I delay on the restock dates and it's sometimes very stressful balancing both, but I'm trying to learn time management and creating a schedule so I could just eliminate that problem," she posited.
This remarkable young woman added that though she had many trials during the formulation process, she kept consistent and pushed through until getting the desired result.
"So, as I said, I was a science student and as a science student you're currently doing experiments, and before I even launched the official soap formula. I tried various formulas I had…numerous fails, and…I almost gave up because I was…trying this formula, it didn't come out how exactly I wanted it to happen…and…it was kind of frustrating. I had to really keep experimenting and keep trying until I reached…the current formula I have," she explained.
NereSkin stocks various types of soaps, such as the turmeric glow soap, neem and moringa soaps, shea soaps, charcoal soaps, and more. Also manufactured by NereSkin are two types of face oils, the infused and the premium face oil, along with toners, face masks, and face scrubs.
According to Newland, she saw that there was a lack of locally-made skincare products and she decided to make her own, sourcing most of her ingredients right here in Guyana.
"I saw that [there] was a lack for natural skincare in Guyana, or just skincare in general because most skincare products are not made in Guyana, all…or most of them we have to import. And I feel that Guyana is such a diverse country, so because of the lacking I decided to make my own, and in the future, I would like to have a bit more products, because we don't have everything, but with time we will," the ambitious young woman commented.
Persons interested in purchasing NereSkin products can place an order via their Instagram page @nereskinn or via WhatsApp at +592 625 1281. They are also located in the West Side Giftshop at Den Amstel, West Coast Demerara, for walk-in customers, and customers in Georgetown can place an order the day before and can choose to pick up their order or have it delivered, between Monday to Friday.