One year later
By: Davina Ramdass
Anzan Ledoux, 19, was shot to his face in 2018 while trying to protect his family members during an attempted robbery at their Good Hope, East Coast Demerara home and today, although he still wears the scar of bravery, the young man is more than grateful that he is alive.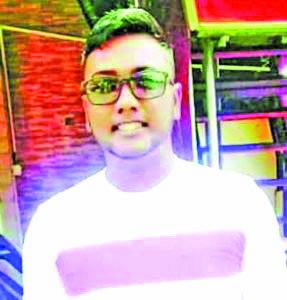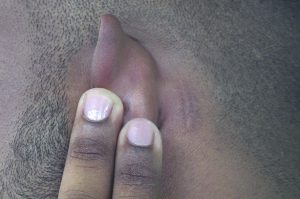 Recognising that many do not survive a gunshot wound, especially to the face, the heroic young man, who has grown to become an even braver soul, in an interview with Guyana Times on Tuesday at his home, recalled that he was having an afternoon "hang" with his family members just outside of his home when he observed two strange men on motorcycles riding through their street at around 21:15h on August 11, 2018.
The men had slowed down in front of their home but rode towards the head of the street and returned at full speed.
Recognising that something was amiss, relatives started to rush into the house and close the gates. It was young Ledoux who ensured that all of his relatives, including a five-year-old child, entered the yard before the men reached their home.
In his bid to lock his gates, young Ledoux attempted to fight off the two men, who had already rushed to the fence. It was reported that the young man struck one of the bandits to his hand, causing him to whip out a gun and fire a shot in the teen's direction, which struck him to the face and caused him to fall onto the concrete ground.
Anzan, who is now 21, said he could not remember anything that happened after he was shot, except that he woke up in the hospital not knowing what had happened. The young man had suffered a broken jaw and underwent surgery to have it rectified. He was hospitalised for about five days before he returned to the comforts of his home.
His mother, Gangadai Jairam, told Guyana Times that she thought she had lost her son the moment she heard the gunshot. She recalled that she started to scream with tears streaming down her cheeks as she rushed towards her son, who was covered in blood.
According to her, the young man had blood rushing through his nose, ears and mouth. But although an entire year has passed, the family said their entire life has changed as they are still fearful and traumatised after the incident.
"We were traumatised for months. It was hard cause every time we keep closing the gates. Every time we see motorbikes pass, cars pass, we always scared". While Ledoux's mother is still fearful, the woman said she is unable to express in words how grateful she is that her son has been given a second chance at life. "I thank God for that cause he protected all of us. If those men came in they probably could've shoot up more of us because was 10 or 11 of us out there that night," the woman stated.
While the young man's life had been saved, doctors were not certain if he would have been able to hear again, due to the severe injuries he had sustained. Ledoux's mother was happy to report that her son now lives a normal life.
The woman, however, explained that although his life was not majorly impacted by the incident, loud noises still affect him, given that near his ear was partially damaged by the bullet. "He usually gets bad migraine when there is like loud music and so but other than that, he is quite healthy," the happy mother reported.
No closure on investigation
Although CCTV footage was reviewed and Police tried their best to tie the ends of this investigation, it was never done.
Jairam told this publication that officers called several times to check up on the family and relatives were even summoned to the police station to hopefully identify the suspects but they were unable to.
The distraught woman said that although the men on the motorcycle were not masked, the family was too worried about their safety to take note of the men's features.
In the meantime, the woman explained that the family has taken some initiatives to ensure that their safety is ensured. One of these measures includes adding more cameras, especially one at their gate.