A driver attached to the Indigenous Peoples' Affairs Ministry on Monday collapsed and died moments after arriving at the house in which he resided, which was engulfed in flames, and has also left several others homeless.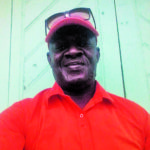 Dead is 47-year-old Gavin North, who was one of several tenants that resided at the Lot 48 Princes Street, Wortmanville, Georgetown, two-storey structure which went up in flames at about midday on Monday.
Guyana Times understands that North arrived at the scene and began salvaging household items from the apartment he occupied when he suddenly fainted. The man was rushed by neighbours to the Georgetown Public Hospital Corporation (GPHC) in an unconscious state but died while receiving medical attention.
When this publication arrived at the scene, tenants related that the fire originated from the upper flat of the building, gutting everything in its path. However, while most of the lower flat was saved, the belongings were all damaged by water used to douse the fire.
A few of the displaced tenants were at the scene, trying to see what they could salvage as others contemplated their next move.
Oneika Landry, one of the persons who resided alone in one of the apartments in the lower flat of the building explained that she was not at home when the fire started. However, firefighters managed to save most of her apartment but damaged all electrical appliances in the process.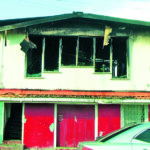 "I was at work when one of my taxi friend called me and told me the house is on fire. But when I got here the fire department was already here trying to get it out…well the most I got was water damage but all my electrical stuff is no more," Landry related.
Meanwhile, a frustrated single parent, Chancey McDonald, who shared an apartment with her brother and four children, related that everything was lost in the blaze, which makes her unsure about her next move.
"They were trying to get the doors open to see what and what they could've get out but they didn't get out anything, because the fire was already in our room…Everything is burn, we do not have anything," she explained.
Meanwhile, the Mayor and City Council has committed to offering assistance to the displaced families.