No-confidence resolution
"The democratic process is at work," Caricom Secretary General Irwin LaRocque told reporters when prompted on Tuesday for a comment on the passage of the no-confidence resolution on December 21.
Ambassador LaRocque was asked about Caricom's position on the Government taking the matter to the Caribbean Court of Justice. He responded, "We have to allow the democratic process to work. We have been observing; we have been looking on and watching on, but the democratic process is at work."
Further, the Caricom SG said that the matter was before the courts and that the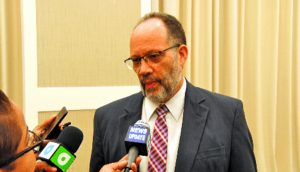 process should be allowed to run its course. However, he suggested that it be done swiftly.
"The matter is before the courts and I think we should allow the discussion and litigation to go through and see what the outcome is. I am sure the court in its wisdom and all of the other peers that may be possible will rule appropriately; my concern is that it be done swiftly, that the matter is before the court and let the court act swiftly," LaRocque stated.
This is the first time that the Caricom SG has commented on the development. His regional counterparts have been quite vocal on the issue of late.
On December 21, 2018, the 111th sitting of the 11th Parliament voted on its confidence in the Government. The matter is now before the High Court.
In the meantime, Government remains in office despite numerous calls for it to step down. At a recent meeting with the Opposition Leader Bharrat Jagdeo and President David Granger, it was agreed that there needs to be a government in place to overlook the running of the country.
In addition, it was decided that the Chief Whips, from the Government and the Opposition, are to meet with the Chairman of the Guyana Elections Commission (GECOM) to determine the Commission's readiness to host regional and general elections.