By Delvon McEwan
As West Indies prepare to take on India in a one-off T20 clash at Sabina Park on Sunday, local fast bowler Ronsford Beaton is staring at a possible debut on the international arena, especially since he was selected at the request of Head Coach Stuart Law, who wanted in the side a seamer who could bowl with sustainable pace.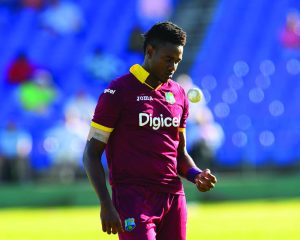 However, Beaton's opportunity is in the balance because of the presence of senior statesman Jerome Taylor and the in-form Kesrick Williams, but he must be ready to prove his worth if given a chance in today's match, which will also see the return of talismanic batsman Chris Gayle, who was absent from the T20 format internationally for more than a year.
Speaking to this publication on Wednesday evening, the fast bowler said the odds are even, but he is prepared to deliver with sustainable pace whenever called upon.
The 24-year-old declared himself very elated to be retained, and said he believes he would be given the opportunity at the right time. He has posited that maybe he would then be the 'the right horse for the course'.
The right-arm quickie maintains he is as fit as a fiddle, and is ready to provide thrills in his usual aggressive approach as he employs his artistry as a fast bowler. If he does, he would be living up to the expectation of Head Coach of the West Indies, Stuart Law, who has requested someone to add firepower to the attack.
Beaton left Guyana on Thursday at 06:00h on his way to Jamaica.