-BFA President on U13 Academy success
By Jemima Holmes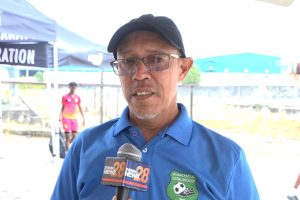 Over the last weekend, Bartica Football Association's (BFA's) Under 13 Academy team showed their grit to finish second in the inaugural Tiger Rentals U13 League Cup Championship.
Although the team missed out on the title after a one-goal thriller against East Coast Academy on Sunday at the Guyana Football Federation's (GFF's) National Training Center (NTC) at Providence, BFA President Alden Marslowe is extremely proud of his young troops.
"We're extremely proud of their performance. They have been in the Academy for quite some time, and we've been putting in some work with them, and they've come out here and proved themselves that the work is working," the BFA President told this publication.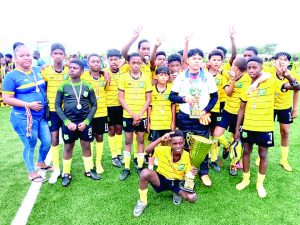 Marslowe added, "The finals, like you said, did not go as we would have liked, but we're grateful; we're still thankful for their performance and what they have done. They have produced a very exciting final, and we'll continue to work with them."
Continuing his chat with Guyana Times Sport, the BFA President touched on the playing conditions that his team is accustomed to, which is different from what had obtained on the night of the finals, and he noted that they adapted well. Marslowe explained, "They have adapted well. I think the result in the final match proved that they need a little more adaptation, because they showed some signs of (tiring) in the last part of this game, and they conceded the one goal. But I think, all in all, they adapted well. They came out and they represented, they look good working on this surface."
Further, Marslowe highlighted that the quality of the teams that Bartica overcame is a testament to their progression and the Federation's input.
"We defeated some very good teams, teams that traditionally dominate in these age categories, but we're seeing that the work that the GFF is pushing into the various member associations, into the Academy training centers, it is bearing fruits, and teams can come from the outer reaches of Guyana and can compete with teams closer to Georgetown," the BFA President reasoned.
Marslowe gave a brief overview of the Association's plans to ensure success at other age group competitions. Noting that competitions will be a key component, he divulged, "We'll continue to have our Academy Training Center running. Well, apart from that, competitions are very important. We'll promote more competitions for them, and we'll promote more competition for those who are coming after them, so that we'll have a good crop for continuity in our progression and in our development."
Aside from the final match, Bartica had an unbeaten run in the preliminary stages of the League Cup. Their goal keeper Zico DosSantos was also adjudged the best in the competition.