Journey from classroom to courtroom
By Lakhram Bhagirat
Accomplishment is a beautiful thing, but the road to that beautiful thing is one that is not paved and lined with daisies, rather it is one lined with bumps. However, when one reaches the pinnacle of accomplishment, the feeling is incomparable.
For 28-year-old Candiacia Juliet Lewis, that day came on October 5, 2019 when she crossed the graduation stage at the Hugh Wooding Law School in Trinidad. The journey to the mecca of law schools in the Caribbean has been a long one, a very long one for her.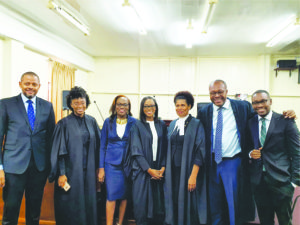 That journey started on the small farming island of Wakenaam in the Essequibo River when little Candiacia started Maria's Pleasure Nursery School. Education has always been an important part of her life and from a very young age, she knew what she wanted to become – an attorney.
When she sat the Common Entrance Examination, Candiacia gained a place at The Bishops' High School in Georgetown but because of the distance, her mother, Hyacinth Prince, decided to have her attend the Essequibo Islands Secondary School (EISS).
"Unlike the other schools, we didn't have a lot of subjects and Sixth Form. We had a maximum of nine subjects and the limitation of the subjects made it difficult and I felt disadvantaged. After I finished secondary school, I came to Georgetown and went to University."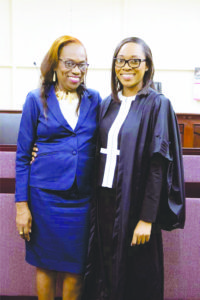 At no point did the idea of becoming a lawyer leave the mind of Candiacia, for it had cemented at an early age.
"I remember on the island while going to school, we would get electricity from 4 pm (16:00h) in the afternoon until quarter to eight (07:45h) in the morning. But every Friday the electricity would come on at either 10:30h or 11:00h and when I would come home from primary school for lunch, I would find my grandmother watching Matlock. When I get home, I would get the ending part of it and she would tell me the story and so and I would always tell her I want to be just like him. She used to admire this man so much and I was fascinated."
Candiacia was recently called to the local Bar when Justice Sandra Kurtzious accepted her petition. In her maiden address to the court as a member of the Bar, Candiacia said that she was proud of herself.
"I am everything I am and everything I aspire to be because of Ms Hyacinth Amelia Prince, my mother. I am blessed to have such a strong woman in my life, who has always been my inspiration, my motivation, and my confidante. The selfless sacrifices that she has continuously made over the years – degrees after degrees –have not gone unnoticed nor taken for granted. She has put plans on hold and set aside her life so as to make my plans and dreams come alive and for this, I will forever be grateful and indebted to her," she said.
"Having a legal career has always been a childhood dream. Living in the farming community of Wakenaam in the Essequibo River, where we rode our bicycles six miles to and fro to attend the only secondary school, where the pinnacle was to write just nine subjects at CXC, becoming a lawyer was simply a fantasy. I remember watching the legendary TV sitcom Matlock and telling my grandmother I want to be just like him when I grow up and she would always say 'go for it'. And today, here I stand before you proof that with hard work, dedication and a good support system, dreams are attainable."
Justice Kurtzious accepted the petition on behalf of Candiacia as brought by Mark Waldron, Attorney-at-Law, Waldron & Burch-Smith Chambers. The Judge then alluded to the fact that the law was a jealous mistress, one that would consume your time. She advised the newly-minted attorney to have a life outside of the law.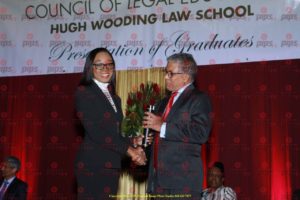 Madam Justice Kurtzious further expounded on the expectations that this noble profession requires and that Lewis should never lose sight of the oath taken and the moral duty owed to the court. Always have integrity and apply your best knowledge of the law was resonating advice coming from the Honourable Justice. She charged the new attorney to always treat clients with respect as they would be your biggest advertisements and to demand respect for yourself and your office. Justice Kurtzious concluded by welcoming Candiacia to the Bar, where she will be permitted to practice in the Cooperative Republic of Guyana and all its jurisdictions.
Backtracking to her journey, Candiacia said that throughout her time at law school, she felt somewhat disadvantaged because of the fact that she was not afforded the opportunity to complete prelaw studies as most of her colleagues were.
In fact, before she studied law, she read for her degree in social work.
"Starting UG Law was a terrifying experience. I was intimidated because I was thinking that I was this little island girl and I would be in class with students from top schools and who were exposed to legal courses before, so I was very intimidated. I remembered my first day: I walked in and got so scared, I closed the door and came back out. Professor Ronald Singh came out and he told me to come in and I sat down and it wasn't bad. Intimidation was still there though and I had no friends there and it made thing worse."
It was her mother who pushed her back to classes and it was from there she skyrocketed. She made friends and it began a beautiful journey towards achieving her Legal Education Certificate. The journey many times attempted to break her and she wanted to give up, but she pushed forward.
The dream was so strong that nothing could have obstructed her path. Now that she is part of the legal profession, Candiacia does not plan to remain in one field of law, rather she wants to become an all-rounder so that she could make the biggest impact.
She is ready to take on the world, one case at a time.