By LaWanda McAllister, Utamu Bell and Andrew Carmichael
Some 14,730 students across the country have been registered to write the National Grade Six Assessment (NGSA) examinations yesterday and today; and despite fears of the COVID-19 pandemic, thousands turned up to write the exams.
On Wednesday, Guyana Times visited several schools and found primary school pupils and their parents excited at the prospect of writing these exams, but some were nervous about writing these exams during this public health crisis.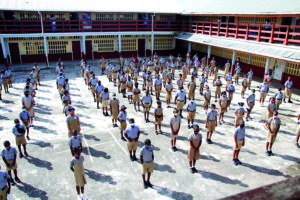 Speaking with this publication, Green Acres Primary School student Naomi Griffith said she was initially nervous about the exams, but eventually her nerves were settled.
"I was thinking, 'What would I do in this exam?'. However, when I saw the paper, I was a bit calm, because I knew what I was going to do. My challenge (in) studying at home during this time was being distracted by my brother, because he would always come and ask for my help, but it was okay. I also couldn't be around my friends, and I couldn't go to my lessons weekly. But it was okay for me," Griffith said.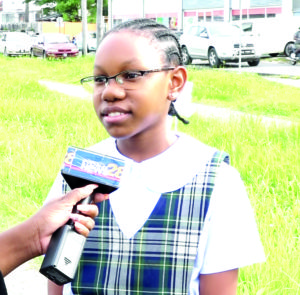 Meanwhile, another student, Carly Hunt, also pointed out that his challenge was being away from the classroom for months, which caused him much distraction. "For me, the subjects were pretty simple, and I think I did really good, because we had a lot of extra time to study, in particular two months. My challenge (in) being at home during this pandemic was a lot of distractions. To name a few, the television would be playing while I would have to study, so most times I would have to lock myself up in my room. Also, I wasn't able to go to my normal Saturday lessons. I definitely believe the time that was given was sufficient".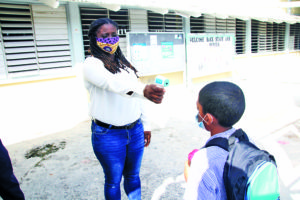 In addition, Sarah Heywood, another NGSA student, said: "I am excited and nervous at the same time, but the examination was good. While I was at home, one of my challenges was with the internet, also a little disturbance with family members, but other than that, it was okay".
Ronald Kissoon, parent of a student who is sitting the NGSA, said he must commend the Ministry of Education (MoE) for its efforts at protecting the students during this time.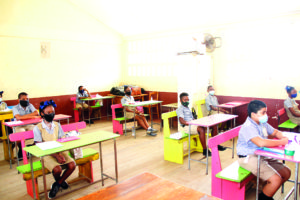 "I think it is going well so far, because I believe the Ministry of Education is capable of implementing a plan to bring about this exam; because we know this exam was postponed and the children were hyped up and were studying enough. So, in my opinion, they did a good job".
However, Esther Smith, a parent of a student of the St Margaret Primary School, said: "I think the Ministry's strategy was good, but I believe that they (students) needed more time, given the pressure of the COVID-19 pandemic.
Region Six
In Region Six (East-Berbice Corentyne), the views on the examination were very mixed on the issue of studying from home. Some expressed that they needed more time to study, since they were away from their formal classroom settings, while others welcomed the extra months to study.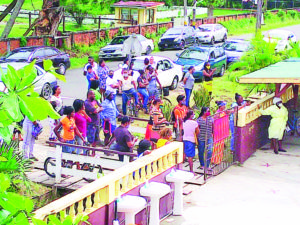 Meanwhile, several parents gathered outside several schools as they waited on their children, and offered moral support. Like the children, they, too, were mixed in their views on the time away from the classroom.
Detective Police Corporal Curtis Cort, who took his son to the All Saints Primary School, expressed some concerns, pointing out, "Mentally, I think he is prepared, but, as a parent, I am still somewhat concerned, since he asked questions about his safety, wondering whether the environment will be safe for him. I was however able to give him that assurance."
Another parent, who took her child to St Teresa's Primary in New Amsterdam, said she is of the belief that most of the students were going into the examination room with a disadvantage.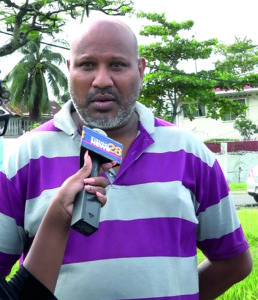 "When the Ministry postponed the exam, they told parents that students would have been given ample time to prepare. However, we were only given three weeks' notice, and the children were only in school for two weeks, three days a week. I do not think it is enough," she noted.
However, Nicola Luther expressed the view that students were prepared for the examination, noting that the Education Ministry had been sending information via the internet and giving children questions from past NGSA papers.
Region 10
Meanwhile, students in Region 10 (Upper Demerara-Berbice) also turned out to write the National Grade Six Assessment exams in their numbers on Wednesday, under strict COVID-19 guidelines.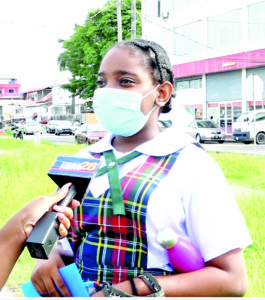 A total of 814 candidates are currently registered to write the exams within that Region; however, a few opted not to do so in light of the pandemic. Students from Linden arrived on time, and were observed heading into school compounds with their face masks on and accompanied by their parents.
Regional Education Officer Rabindra Singh, who visited schools in the community, noted that there was an excellent turnout overall.
"The children were well equipped. Our schools are well cleaned, the students had on their masks…They have their sanitisation package with them…We have nurses at our schools to check their body temperature and so on. So, everybody was prepared. I visited most of the schools… We had an incident-free day. None of the schools reported that they had any sickness, and the children, I can say that they would have practised good protocols…I spoke with some of them, and I can tell that they understand what the world is going through right now", Singh explained.
According to information from the Regional Education Department over at the Coomacka Primary School, 26 out of 27 students turned up to write the exams, while all 67 candidates were present at the Watooka Day Primary School. 77 out of 78 students were at the Regma Primary, and 105 out of 106 at Amelia's Ward Primary.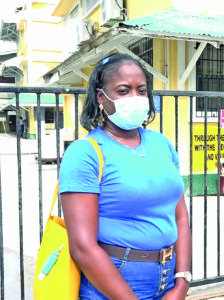 Meanwhile, all 6 wrote the exams at Bamia Primary, and all 9 at Muritaro Primary, while 102 out of 104 students wrote the exams at the Wismar Hill Primary, and 51 out of 55 at the St Aidan's Primary. Christianburg Primary saw a full turnout of all 19 students, while 37 out of 40 students wrote the exams at the Mackenzie Primary.
Additionally, the lone student who was registered to write the exams at Mabura was present to write the exams.
According to Singh, two parents at a particular school in the region were in disagreement with their children writing the exams. He noted that some students had migrated to other regions and were slated to write the exams there.
Region 10 has recorded a greater than 95 percent turnout for classes in the two weeks leading up to these exams of Wednesday and today.
For those who chose not to write the exams, Singh noted, while there are alternative measures in place, those students would not be placed at a list 'A' school.
English Language and Science were written on Wednesday, while Social Studies and Mathematics will be done today.
NGSA was initially scheduled for April, but had to be postponed until July as a result of COVID-19.