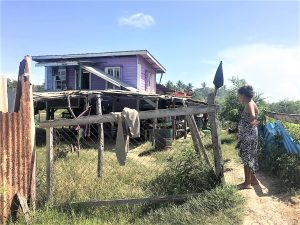 The motionless body of a 23-month-old boy was on Monday pulled from a trench close to his Berbice home moments after he disappeared.
Dead is Bryston Akrie of No. 52 Village Cortentyne, Berbice, whom might have slipped into the pond as he was making his way to join his other three siblings a short distance away. He was found floating face down by his mother, Patricia Devi, at about 15:00h.
When Guyana Times contacted the mother on Tuesday, she was at the time speaking with Police detectives who are investigating the circumstances surrounding the death of the child.
She however explained that the child asked for some tea and as such, she left him with his grandmother as she went to the kitchen. However, as she returned, she saw her mother fast asleep and the child was missing.
She explained that the child would normally go out to play with his siblings and thought that he was with them. It was not until one of her other children returned home that she realized that he never joined the others. She said she frantically woke her mother and raised an alarm.
"Meh search all ova… upstairs, down stairs, in the back yard…and we nah see he… Meh mother and so start to help search but we nah see he," she recalled.
She said that she decided to check around the pond where she was confronted by her biggest fear. Upon seeing the child in the water, she reportedly jumped overboard and retrieved the child.
At that time, she recollected his body was pale and there were no movements or signs that he was alive. Her father, who heard her screams as he was heading home from work, ran towards her and as he picked up his grandson, he realized that the child was dead.
The mother, grieving the lost her last child, said that on his way to meet his siblings, he might have stopped by the pond to play with the water and it then slipped in.
"We carry he in the house, bathe he and change he clothes and by then the police come do them checks…we then carry he to the hospital mortuary," the distraught woman added.
She further told Guyana Times that she and the father of her four children had separated three months ago and in order for her to take care of her children, she was forced to look for a job. She is presently employed with an aunt to clean fish glue. The other children are ages eight, six and four.
A Post-Mortem is expected to be performed shortly.