Granger assassination plot CoI
… CoI hears alleged plot mastermind is a 'Police friend'
Police Commissioner Seelall Persaud allegedly contacted the brother of the alleged assassination plot mastermind on the night of March 29, when the allegation was made against businessman Nizam Khan by Andrif Gillard.
Police Corporal Keon Benjamin told the Commission of Inquiry (CoI) on the night of March 29 he was on duty at the Criminal Investigation Department (CID) Major Crimes Unit when he was instructed to take a statement from a male and while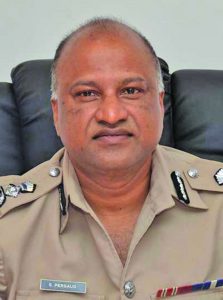 taking the statement he heard Nizam's brother, Imran using a series of expletives.
He added that he cautioned Imran Khan to desist from using foul language to which he did not adhere. Subsequently, he arrested the man and noticed he had a 45-calibre pistol in his possession for which he produced a licence.
Benjamin related that he took possession of the firearm, which he handed over to Detective Sergeant Komal Pitama, as well as two cellphones that he kept on his desk. The Corporal told the Commissioners that while at his desk one of Imran's cellphones rang and he noticed the name 'Seelall' displayed on the screen.
"Whilst he (Imran) was in custody, when I take away his firearm and his cellphone, his cellphone ring and I showed Sergeant Pitama, Mr Seelall's name shows up on the phone and I gave the phone to Sergeant Pitama who called [Assistant Superintendent of Police] ASP Alonzo and told him Mr Seelall, Commissioner of Police, was on the phone and Mr Alonzo said to give him (Imran) his phone and he collected his phone and went away and speak," he told the CoI.
This information caught the attention of the CoI Chairman, retired Police Commissioner Paul Slowe, who noted that it was new information to the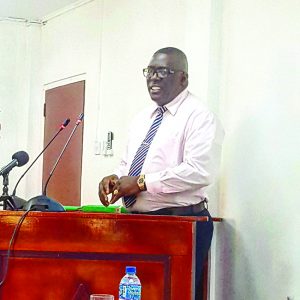 Commission.
'Police friend'
ASP Mitchell Caesar, Head of the Major Crimes Unit, told the Commission on Monday that the alleged mastermind was a 'Police friend' since he often attended Police parties and rubbed shoulders with both senior and junior ranks.
Caesar told the CoI that Crime Chief Wendell Blanhum ordered him to spearhead an investigation into the allegation. He related that he instructed Detective Sergeant Komal Pitama to head a party to the home of Nizam Khan with the intention of arresting him and searching his premises.
He said he contacted the Police's Legal Adviser, retired Justice Claudette Singh, to inform her about the investigation and seek advice. He noted that on March 29, when the allegation was made, he was unwell and left the office early, but stayed in contact with Pitama and the team offering his guidance.
He acknowledged receiving a call from Inspector Prem Narine, who informed him that Police Commissioner Persaud ordered the release of Nizam Khan and his brother Imran Khan to which he indicated he could not say otherwise. However, he said owing to the gravity of the allegation, he would have kept Nizam and Imran Khan in custody.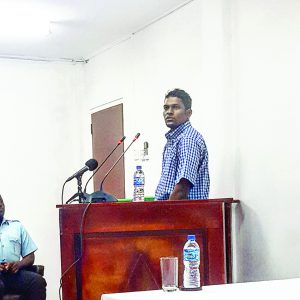 When the CoI Chairman asked Caesar whether he thought about obtaining a search warrant to search the premises of Nizam Khan, he stated that he was trying to keep the information contained and as such, did not make application for a warrant.
He noted that a few days after the allegation was made, Leon Baldeo, who alleges Gillard offered him money to say he was present when Nizam Khan spoke of the plot to kill the President, came forward and gave a statement. Subsequent to Baldeo's statement, another of Gillard's friends, Lloyd "Anthony" Adams, came forward and told Police that he received a cellphone call from Gillard, who said he was 'setting up' the Khan brothers.
He added that a confrontation was held between the duo, and Gillard denied the allegation.
Safeguarding myself
Baldeo also appeared before the Commissioners. He told the CoI that he reported the matter to the Police because he did not want Gillard to make falsified claims against him. He said it was known that Gillard would make up "stuff".
He alleged that he was offered $50,000 by Gillard to say that he was present when the plot was revealed. He said the offer was made on March 26. Gillard reported the matter on March 29.
Baldeo revealed that he has been friends with Gillard for some time and they would often "smoke weed" together.
Police Corporal Heranjan Deonarine, who was part of the team headed by Pitama, said that when they arrived at Nizam Khan's home on March 29, they cautioned him and told him of the allegation which he denied. He related that Nizam Khan then handed over his licensed firearm along with the licence and gave them permission to search his premises.
They conducted a thorough search of the two-storey concrete building and its environs and came up empty-handed. They then transported Nizam Khan to the CID Headquarters where they had a confrontation with the accused and accuser.
The CoI hearing continues today and the report is expected to be submitted to President Granger on August 18.