…urges them to adhere to safety regulations
Traffic Chief, Superintendent Dennis Stephen has issued stern warnings to log truck drivers regarding their operations, amid efforts to reduce accidents and causalities on the country's roadway.
A recent meeting saw the Guyana Police Force's Traffic Department, in collaboration with the Guyana Forestry Commission, meeting with log truck drivers and owners at Riverside Drive, Watooka, in Mackenzie, Linden.
Traffic Chief Stephen told the log truck drivers and owners that they are responsible for the trucks to be in a safe operating condition. All trucks must have reflectors installed to enhance visibility at night and during a breakdown on the roadway.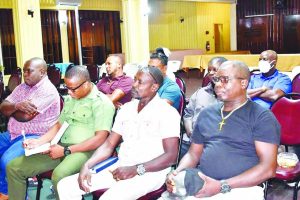 Additionally, the Traffic Chief instructed that they use no less than four chains and other fastening straps to secure each load while travelling on our roadways.
He also reiterated to the log truck drivers that they should no longer allow porters to be seated at the top of logs when travelling; instead, they should be in the truck's cabin.
Owners of log trucks were reminded that it is their responsibility to have all of their drivers licensed because this can have serious consequences. On this note, the Traffic Chief said he was informed that some of the trail drivers are unlicensed, and they bring the log truck up to a point, and a licensed driver takes over.
He also warned the drivers not to consume alcohol while driving.
"The collaboration aims to reduce road accidents and fatalities and make our roadway safer for all users," the Guyana Police Force stated.
Deputy Commissioner of the Guyana Forestry Commission, Tasreef Khan also spoke to the truck drivers and owners, welcoming the collaboration and assuring the GFC's full support to make roads safer and save lives. (G12)