Sharing oil and gas experiences
By Lakhram Bhagirat
It is important for all oil and gas companies to actively pursue transparency. This is to ensure that the integrity of the sector is kept intact, the environment is preserved, and future generations are provided for.
Michael Critch, Treasurer of the Broad of Directors of the Newfoundland and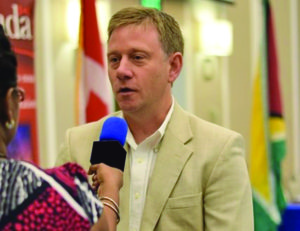 Labrador Oil and Gas Industries Association (NOIA), and a team of Canadians are in Guyana at the instance of the Canadian High Commission to share on Canada's oil and gas experience. He made this observation during a public presentation at the Umana Yana on Wednesday. He was speaking at a five-day consultative and partnership workshop collaboratively sponsored by the Government of Guyana, the Guyana Office for Investment (GO-Invest), and the Canadian High Commission. That workshop ended on Thursday.
Over the past months, Guyanese from all sections of society have been calling for transparency in the local dealings concerning the emerging oil and gas sector. The call for the release of the contract entered into between the Government of Guyana and ExxonMobil have intensified over the weeks, but Government remains adamant that if the document were shared it would compromise security.
However, Commissioner of Information, Charles Ramson Snr, has promised access to the document. He said the non-disclosure of the details of the Production Sharing Agreement (PSA) between Exxon and the Government does not prevent any citizen from getting details from the Commissioner of Information. He added that if a formal application is made, the information could become available.
Ramson Snr has said it is his objective to inform citizens of their right to access information not readily available, and the process through which they can so do.
The agreement, signed earlier this year, will see Guyana receiving 50 per cent of the profits along with two per cent royalties following the commencement of production in 2020.
Guyana has its own draft Local Content Policy, which was formulated by the Natural Resources Ministry and seen by this publication. According to that Policy, local businesses would be provided with assistance to build capacity.
The document sets out that a well-funded and resourced regulatory institution would enforce the policy. A multi-stakeholder group representing local bodies that are involved in the sector would in turn oversee the regulator.
The agency's duties would include monitoring, evaluating, and reporting on the licensing and registration process for all suppliers. It will also be in charge of creating databases for suppliers, local professionals and technicians, as well as projects. It is proposed that the body will also set targets for these projects.
In relation to royalties, Critch said the issue is complex and is formulated by various governments, depending on their interests.
"The royalties and taxation is a complex scheme formulated by Government. Even in Canada, even in Newfoundland and Labrador, it is not the same…it is not always easy for the Government to formulate, because there are differences. Based on the resources out there, you cannot compare one oilfield to the next, because each oilfield needs to be negotiated in its own," he said.
He noted that, in his jurisdiction, the percentage of royalties is changed from time to time, depending on various factors. He added that, in some cases, Government would have to take royalty cuts to ensure that more jobs are being provided for its citizens and better investments are made in the forms of infrastructural and educational development.
He said Government needs to take an active role to support the development of a local supply and service industry, along with the education and skills' training, to ensure that citizens are prepared and can be a part of the industry.
Critch said Guyana should have been engaging international bodies a while now to have citizens trained and knowledge shared to ensure readiness when production commences.
With production expecting to commence in 2020, Critch said, Guyana should start seeing an influx of revenue immediately following the commencement of production, but he noted that profit-sharing payments would depend on the agreement between Government and the drilling company.
The overall estimation of oil already discovered in Guyana is now between 2.25 billion and 2.75 billion oil equivalent barrels. This represents oil bearing rocks found in Liza One, Two, Three and Four wells, Liza Deep, Payara and Snoek. However, oil was not found in commercial quantities at the SkipJack well.
About 120 barrels of oil will be produced a day for the first 20 years in Guyana.