— former UNC Senator predicts his party's return to power
Trinidad and Tobago (T&T) go to the polls today, a little over one week after Guyana finally wrapped up its own five-month-long election. Incumbent T&T Prime Minister Dr Keith Rowley will be seeking re-election, against former Prime Minister Kamla Persad-Bissessar of the United National Congress (UNC).
Rowley had taken an active role in trying to mediate Guyana's electoral controversies. In fact, Rowley along with other Caribbean leaders including former Caribbean Community (Caricom) Chair, Mia Mottley had visited Guyana in a bid to resolve the political stalemate following the eruption of controversy in Guyana's election.
As the election controversy got worse and A Partnership for National Unity/Alliance For Change (APNU/AFC) continued to drag out the process, Rowley had spoken of the possibility of Guyana being expelled from Caricom and the headquarters moved to another location.
There are many similarities between Guyana and Trinidad. Experts have pointed to the ethnic makeup of both countries and the way it translates into voting patterns. This very pattern was alluded to by Robin Montano, a T&T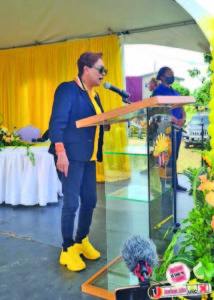 attorney-at-law and a former UNC Senator.
In a statement on the elections, Montano noted that contrary to popular belief, the elections will be a close one. He hypothesised that based on the established voting patterns, UNC stands a better chance than Rowley's People's National Movement (PNM) party.
"In (today's) election my prediction is that the UNC will win … but it is going to be hard-fought and is potentially a tight race… the last Government under Keith Rowley had 23 seats. The UNC had 18. There are at present 8 vulnerable PNM seats. They are Toco/Sangre Grande, Tunapuna, La Horquetta/Talparo, St Joseph, San Fernando West, Moruga/Tableland, Tobago East and Tobago West."
On the other hand, Montano surmised that the UNC only has three vulnerable seats. They are Chaguanas East, Pointe-a-Pierre and Barataria/San Juan. However, Montano still believed that the UNC would prevail in its seats. In addition, Montano noted that there is a resentment building in the country, particularly among the youth, against the PNM Government.
"As for which party appears to have the best record and best proposals to handle the problems of the country, the answer is the UNC. The PNM's proposals in this election campaign seem to have been 'we've got everything under control.' Nowhere have they come out with their plans and proposals to take the country forward. But the UNC has and people have noticed," Montano said.
"As this is meant to be a very short summary of what I have to say, I will leave it here for now. There are a lot of other issues that need to be discussed, eg, the bias in the media and why all the professional pollsters seem to be predicting a PNM victory or are saying that it is too close to call. It is not."