Banks DIH 15/15 Softball Cricket League in Berbice…
…Final to be played under floodlights
Trophy Stall Guyana Limited has come on board as a sponsor of the Banks DIH Limited 15/15 Softball Cricket League for teams in East Berbice. They will be sponsoring some trophies for outstanding performances in today's competition.
All systems are in place and all is set for the final showdown today, with the quarterfinals, semifinals and final to be played at the world-famous Albion Community Development Centre Ground in East Berbice. With the final set to be played under floodlights, an action-packed day is anticipated.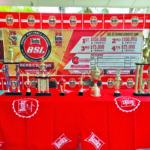 According to the organisers, any one of the teams can win the competition, as they are all set and ready to go. All of the teams were hard at practice throughout the week, with most playing warm up and friendly games against other opponents. They each fancy themselves taking home the coveted prizes on offer.
With over $700,000 in cash, trophies and other incentives up for grabs compliments of Banks DIH Limited, a scintillating day's activity is anticipated, as the best eight softball teams are set to go at each other for the massive prizes up for grabs.
'Zone A' comprises teams from East and West Canje, East Coast and East Bank Berbice, and New Amsterdam. 'Zone B' comprises teams from the Corentyne.
Teams that have qualified are as follows: 'Zone A' are Grill Masters, Chase X1, Betsy Ground United, and Young Strikers. 'Zone B' are Port Mourant United, Regal X1, Franchise and Turbo United.
Quarterfinal matches will see a team from 'Zone A' playing a team from 'Zone B'. Semi-final matches will be between the winner of match number one and match number two.
Semifinal number two will see the winner of match number three playing the winner of match number four.
The fixture is as follows – Quarterfinal No 1 will be between Port Mourant United and Young Strikers.
Quarterfinal number two will be between Regal XI and Betsy Ground United.
Quarterfinal No 3 will be between Franchise XI and Chase XI.
Quarter Final No 4 will see Turbo United matching skills will Grill Masters.
This tournament is being coordinated by Omeshwar Sirikishun. The winning team will collect $150,000, trophies and other incentives. Second-placed team would collect $100,000; third-placed team $75,000 and fourth-placed $25,000. There will be other incentives for outstanding individual players.
Banks DIH Berbice Branch Manager Reginald Matthews and Sales Manager Nandram Basdeo, among other staff members, will be on hand to bowl the first ball, participate in the day's activities, and assist with the prize distribution ceremony at the end of the competition.
There will be special giveaways throughout the day's activities. Patrons will be able to win special Banks DIH caps, pens, keys and other souvenirs. A well-stocked bar would be in attendance, and there will be games and other family fun activities for children and adults, including the bouncy castle and the trampoline.