Chairman of the Tuschen-Uitvlugt Neighbourhood Democratic Council (NDC) Vishal Ambekar is accusing the Regional Democratic Council of Region Three (Essequibo Islands-West Demerara) and by extension Central Government of neglect, as residents remain stagnated while battling with the deplorable roads in Block Eight Tuschen and Zeelugt New Housing Scheme, East Bank Essequibo.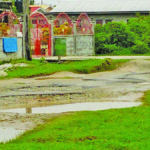 Speaking with Guyana Times on Sunday, the Chairman of the Tuschen-Uitvlugt Neighbourhood Democratic Council stated that the entire road network along Tuschen New Scheme has not been rehabilitated in years.
"We are concerned that over the last three years Tuschen-Uitvlugt has been forgotten by central Government or worst, ignored," Ambekar told this newspaper.
Moreover, he added that the state of the roads worsens during the rainy season and is even impassable at times.
"It is impassable in some of the streets. We have had situation where canters are stuck and it is not stuck because of the wheel, but because of the holes and the soft texture of the soil. It stuck because what happened is when one wheel goes in the hole the canter ends up resting on the road itself," the NDC Chairman said.
He further stated that the NDC has tried on numerous occasions to contact both Local and Central Government entities to have the roads fixed, but no tangible support has been forthcoming.
"In some of these areas, residents are forced to pay an increased transportation cost because of the state of the road, namely Tuschen and Zeelugt Housing Schemes. The NDC continues to make representation for roads within our district to be upgraded but our voices are ignored. We have written numerous letters to the Public [Infrastructure Ministry] since 2016 on a yearly basis we have written four or more letters."
In January of 2018, the then Regional Executive Officer (REO) of Region Three, Denis Jaikaran stated that these schemes would have been handed over to the NDC.
"In terms of handing over the schemes to the NDC, we are not going [to] take over the scheme in the present condition that it is in. They need to fix the current infrastructure that it has there in Tuschen and Zeelugt before it is handed over because this is going [to] place an additional burden on residents because the only way the NDC can address some of these concerns is through collections of rates and taxes and we would have to charge very high taxes to fix those roads."
Ambekar added that the NDC is currently working with limited resources.
"From time to time we would try to do some clearing and cleaning, we can't do it because of lack of resources. We are serving from Tuschen to Uitvlugt, this is one of the largest NDC we got in Region Three. Within Tuschen to Uitvlugt there is three new housing scheme which has not been handed over," he added.