Malali, through a fine all-round effort from Orlando Williams, were able to score a two-wicket win against Royal Champions when the sides met in the final of the Upper Demerara Cricket Association (UDCA) T20 competition, which had the backing of the Guyana Cricket Board (GCB).
After taking first strike, Royal Champions finished with 145 as they were bowled out in 17.1 overs, behind a fine 52 by Rastaf Oselmo as Michael Fredericks made 28 and John Degrealla added 15.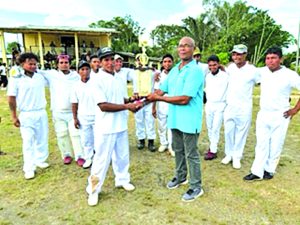 Keno Fredericks collected 3 for 20 off his 3.1 overs, with Williams snaring three for 31 from four overs and Denzil Spencer taking two for 21 from 3.1 overs.
When Malali took to the crease, Spencer struck 21 from the opening over from Michael Fredericks which set the tone for a good response. However, Royals Champions bounced back with two swift dismissals before Williams stepped in to hold the innings together with a solid 35. With five overs remaining, the Malali side was 131 for five and Captain Trenton Peters was there in the end, on six, when victory was achieved, following other supporting scores from Rishan Ramnauth (13), Dario Pollard (10) and Travis Giles (15).
Derrell got three for 9 from four overs and Michael Fredericks was expensive taking two for 43 from four overs.
UDCA President Bradley Fredericks handed over the GCB's winning trophy to Peters while the Man of the Match Award was won by Orlando Williams for his all-round performances and he received his trophy from Jawana Douglas in the company of the UDCA President and its Secretary, Jacquey Bourne.