By Timothy Jaikarran
The University of Guyana will host its first small-goal tournament on February 2. The teams will consist of different players from across faculties as the action goes down at the University of Guyana Ground.
According to organiser Jafar Gibbons, the tournament is designed to foster student interaction across faculties.
Speaking with Guyana Times Sport, Gibbons said, "This tournament is the first of its kind, usual sporting activities are planned by the administration, but this is the first time an individual student is taking on the burden of footing the bill of a tournament by himself. Traditionally, sports are organised through inter-faculty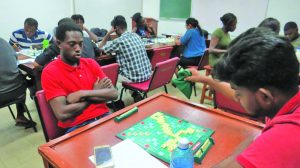 style meaning you are placed in teams comprising of players from your faculty."
Gibbons went on to state that what the tournament does is that it gives individuals the chance to be part of a mixed-faculty team, hence, increasing socialisation with peers from different faculties.
The tournament will be played for one day, only providing that there is a maximum of eight registered teams; however, if there are more than 16 teams contesting, the games shall be played for two weeks.
The matches will be round-robin style, followed by the knockout stage, which will be three games – two semi-finals and the final. The games will be played in two five-minute halves.
In closing, Gibbons said, "When you put that as a collective tournament, you have a design that is second to none in that realm; hence, fostering positive interactions and better understanding of persons from various faculties."
Some of the entities on board with this event are the Kashif and Shanghai Organisation, Signature Moov, New Era Entertainment, Michael Singh, the Guyana Football Federation, and Robbie Rambarran.