After 1 year
Scores of students of the University of Guyana (UG) took to social media during this week, demanding that the university provide them with their academic certificates that they were supposed to receive over a year ago.
In one instance, a student expressed: "After four years of UG, we don't expect to be running behind UG for what we worked hard for."
Another said: "I have been calling UG since in February after I found out certificate for health science and technology were available. They said SEBI and Social Science certificate would be [avail]able in March month early April and sadly COVID-19 and election happened. We have been reaching out to UoG during the pandemic and they keep telling us it is not available. Some of us requested for our transcripts some of us received it via email and it was unsigned and some never received it at all."
"UOG is aware of the number of students who supposed to be graduating. They could have start printing certificate. Most person last exam ends in May month end and grades are available to the student by July month end…."
A third graduate said: "When I called UoG last month and I spoke to one of exam division staff, I was told to inform my employer and whichever universities I'm applying too, that it is a pandemic and they are not risking their life for anyone. Then yesterday (Monday) I was told by another staff it is a pandemic why should the staff compromise their health."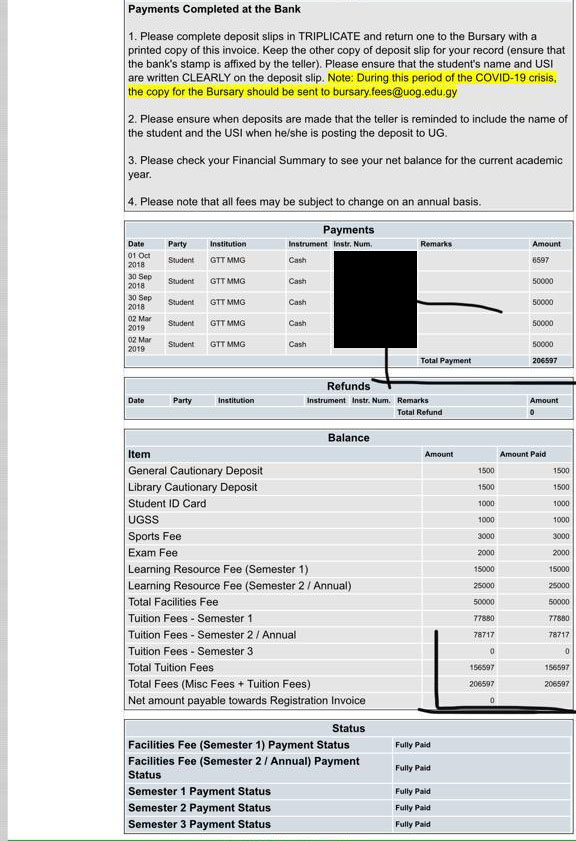 According to the students, after graduating in the 2019/2020 academic year, September, they received an email with the option to have their certificates mailed to them via registered mail. However, since then, they have not received their certifications.
Nevertheless, on Tuesday, when Guyana Times reached out to Vice Chancellor of the University, Dr Paloma Mohamed-Martin, she said based on the University's ordinance, the Registry can only sendoff certificates for graduates who consented for the option of the registered mail, and who are not indebted to the University.
She said based on the Registry's report, UG's Berbice Campus (UGBC) graduated 216 students in the class of 2019. At the time, the mailing list was generated and a mere 67 consented to have their certificates mailed to them.
There are more graduates who have not indicated anything then there are those who declined to use this option. Of that 67 only 36 were fully cleared.
She said that the Registry's report revealed that this trend continues at the Turkeyen Campus, Greater Georgetown. Of 1903 graduates at that campus, only 173 consented to their certificates being dispatched via registered mail.
"The actual number we will be able to send off is likely to decline when we filter for completed clearances," she said the Registry's report stated.
According to the Vice Chancellor, the University's Registry has been repeatedly asking graduates to complete all the processes needed, adding that the decision to mail certificates, which has never been done before, was taken and approved in late October 2020. She said they are now on track and ready to assist any student as best as they can.
Mohamed said as it relates to students who are not indebted to the University and do not wish to have their certificates mailed to them via registered mail, there are two other options.
"We are in safe mode dealing with the same serious issues of COVID-19 that the whole country is. We have to balance safety with service. We can email transcripts and letters of completion at this time until all our systems are sufficiently virus-proof to entertain the public. Also, those who want their certificates mailed can go into SRMS to indicate," she noted.
She also added that despite the fact that some students have not met all obligations, the University has been giving letters of completion.
However, many of the students who reached out to this publication have denied the VC's claim that they have outstanding payments. They even sent this newspaper copies of their UG profile showing that they have paid in full but are still waiting to receive their certificate.