NAMILCO U-17
When the Thunderbolt NAMILCO Under-17 Football Championships organized by the Upper Demerara football Association continued on Saturday afternoon at the Wisburg Secondary School ground, the lone fixture resulted in Milerock hammering out a 4-0 win over Amelia's Ward Panthers.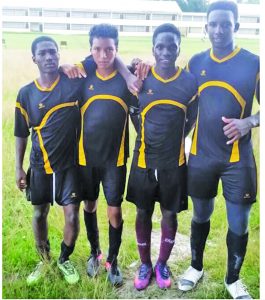 Once again in fine scoring form for the Milerock unit was Mario Depaz. He began the thumping for Milerock when he banged home the opening goal in the 25th minute, which they maintained until half time.
Five minutes into the second half, Milerock increased their lead through Jonathan Copeland, who found the back of the net in the 50th minute.
This was then increased further through a good goal coming off the boot of Brinsley Allicock in the 58th minute; and Raheem Angus then sealed the issue when he booted home the fourth goal of the encounter in the 68th minute. The end result was a 4-0 win for Milerock, and an encouraging streak lasting over three games.