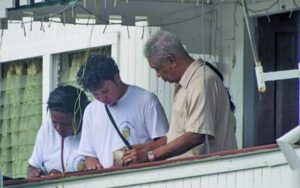 With thousands of people taking a decision to boycott the exercise and with lack of oversight for the enumerators, House to House Registration will not produce a clean list. This is according to Opposition leader Bharrat Jagdeo.
Jagdeo was at the time speaking during his weekly press conference at his Church Street office on Wednesday. According to the former President, this process may in fact produce the opposite of what it is supposed to achieve.
"The PPP made a decision not to participate, not to be complicit in an illegality. It is illegal, for the way it is being conducted. Any list created on the basis of this house to house, would have no credibility. Because people are refusing to be registered. The registration of people is being done in a manner not scrutinized."
"So they could put in 10 people. They just need to get one enumerator… and you have a whole group of people working a propaganda machine on the government side, that there are 200,000 people who should not be on the list. They didn't discover this until after the No confidence motion. (Chief Elections Officer Keith) Lowenfield has made it clear that is not true, that's speculative."
Jagdeo pointed out that while the Official List of Electors has expired, the National Registrar of Registrants has not. In addition, Jagdeo noted that based on GECOM's timeline for the exercise elections would be pushed back until next year the earliest.
Attacks
Chief Elections Officer Keith Lowenfield had revealed recently that enumerators have been met by non-cooperation from some citizens. Reports have ranged from staff being told they will not be paid, to some citizens employing dogs on the hapless GECOM workers.
In the wake of these reports, Jagdeo also issued a plea for such persons to desist. He urged citizens to act responsibly and not to resort to such measures, but to treat enumerators with respect.
"I want to urge Guyanese not to target the enumerators. They are doing a job, a lot of them are professionals. But people see them as being complicit in this illegality. They are doing this for pay. You can treat them politely and say, I'm not registering."
"Because these are Guyanese people who are trying to earn a living too. So we shouldn't disparage them. In fact, I suggest they should suspend the activity and give the enumerators a month or two salaries for their work and their training. But suspend the activity."
GECOM is currently undertaking house to house registration, which was last conducted in 2008 and will see enumerators going in teams of two to three, from door to door in various communities across Guyana. The enumerators will present forms to registrants to fill up, as well as take fingerprints and pictures.
It is understood that these enumerators work from 15:30 hrs to 18:30 hrs during the week and from 9:00hrs to 16:00hrs on weekends and holidays. The exercise is intended to produce a new National Register of Registrants Database and Official List of Electors.
This means that everyone, regardless of whether they were registered before or not, must register anew at their place of residence between July 20 and October of this year. However, a no confidence motion was passed against the government since December 21 of last year, necessitating elections in three months.
In addition, the requirement for proof of residency has produced alarm for overseas based Guyanese, to the point where a court case was filed earlier this year by an overseas based Guyanese against house to house registration, on the basis that it would disenfranchise her. That case was later withdrawn out of the belief that GECOM would adhere to the recent Caribbean Court of Justice (CCJ) rulings which reiterated the need for elections in three months.
Currently, attorney and social commentator Christopher Ram has a case before the High Court in which he is seeking an injunction against the exercise. That case comes up for hearing on Friday before acting Chief Justice Roxanne George.