…says Guyana, US traded US$1.6B in 9 months last year
…as GMSA looks to strengthen regional trade
At a time when global trade relations have been heavily impacted by the COVID-19 pandemic, the trade bill between Guyana and the United States was some US$1.6 billion in the first three quarters of last year alone.
This was revealed by US Ambassador to Guyana, Sarah-Ann Lynch, during her address to the Annual General Meeting of the Guyana Manufacturing and Services Association (GMSA) on Thursday at the Ramada Hotel in Providence, East Bank Demerara (EBD).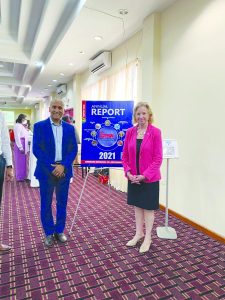 "Last year, in the first three quarters alone, the trade between the US and Guyana was US$1.6 billion and folks, we are just getting started. US companies are ready to partner in a number of areas not just in oil and gas but also in infrastructure, agriculture, health-care services, tourism and many more sectors – which to me, in a way, represents a positive shift in the narrative we are promoting when it comes to economic partnership with US companies," Ambassador Lynch stated.
She pointed out that the investment floodgates were open in Guyana and this has resulted in scores of foreign businesses, particularly from the US, wanting to expand here.
Economic diversification
The US diplomat went on to outline the importance of economic diversification to Guyana's prosperity but more particularly, as a safeguard against Dutch disease. As such, she recognised that this diversification is stymied by unreliable and high electricity costs as well as the lack of infrastructure – some of the things that are critical to investors.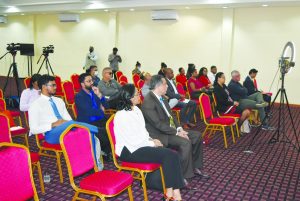 "You make great products, add value to food, make parts for machines, build homes and so much more… [But] there are often more products on the shelves here in Guyana from other Caribbean nations rather than from Guyana. We are convinced that reliable lower cost of electricity is absolutely crucial to changing these realities as is reliable infrastructure that is built to last. Because of these binding constraints, we are encouraging local businesses to consider partnering with US firms who are looking for partners for the long-term development of Guyana," she stated.
International standards
Ambassador Lynch acknowledged the high standards, rules and regulations that US companies often require when seeking local partners and consequently urge Guyanese businesses to work on building their certifications and adherence to other international standards related to operations.
"These [US] firms, though, have high standards and lots of rules which will likely require their own vetting of partners. But the US Embassy is very, very excited about the economic opportunities for US partnerships with local businesses that are reliable, trustworthy and reputable. And we know there are lots of those opportunities out there.
"While enhancing operations of companies, it is so important to include standards and gain relevant international accreditation in order to safely and sustainably grow. An accreditation is not merely a credential but rather throughout the process, it can create opportunities for businesses to consider and to utilise," she outlined.
The US envoy further noted that the arrival of American firms here was not necessarily more competition but can serve as partnerships for Guyanese businesses to benefit from expertise and resources in order to grow and contribute to the country's expanding economy.
"I want to challenge you all to be the role models for the country in terms of improving standards for quality, improving standards for service delivery in the business world. Be the role models for the Private Sector. You're in the limelight, you're on the world stage, I urge you to use your positions to be responsible leaders, be innovative leaders and commit to making international standards work within your companies," she posited.
Moreover, the US Ambassador urged business executives at the GMSA's Annual Meeting on Thursday to ensure they tap into the pool of young Guyanese talent and hire staff based on merit.
"What we know for sure is that Guyanese youth can now look to great jobs here in Guyana instead of overseas… Going forward, I encourage you the business executives to look for good local talent. It's out there," she noted.
Meanwhile, speaking with Guyana Times on the sidelines of the AGM, GMSA President Rafeek Khan outlined some of the highlights in the Association's 2021 Report. These include the Association's revenues almost doubling last year at a time when the country was not only battling the impact of the COVID-19 pandemic but was also inundated by floods across the country.
"It was a very tough time for many Guyanese companies, because some companies closed during that time. So we have increased revenues – almost doubling. We have increased our asset base and double it as well. And we have also increased our membership by 25 per cent," Khan stated.
Going forward in 2022, the GMSA Head promised some "amazing, dynamic things to come". A priority is getting the products of its membership beyond Guyana and into the Region.
"You've seen freight costs are going up, it's not coming down in this post-COVID season. So, we want to trade more regionally than extra-regionally in identified markets. So, that's just one of the areas we will be helping our businesses to connect and get market opportunities. We want to work more with members to help them access capital, and help them strengthen their capacities and help connect them with joint venture partners," Khan asserted.
Another area high on the agenda is using lessons learnt from this COVID era to enhance business operations especially utilising technology to connect. (G8)