…as OAS SG demands Venezuela respect Guyana's territory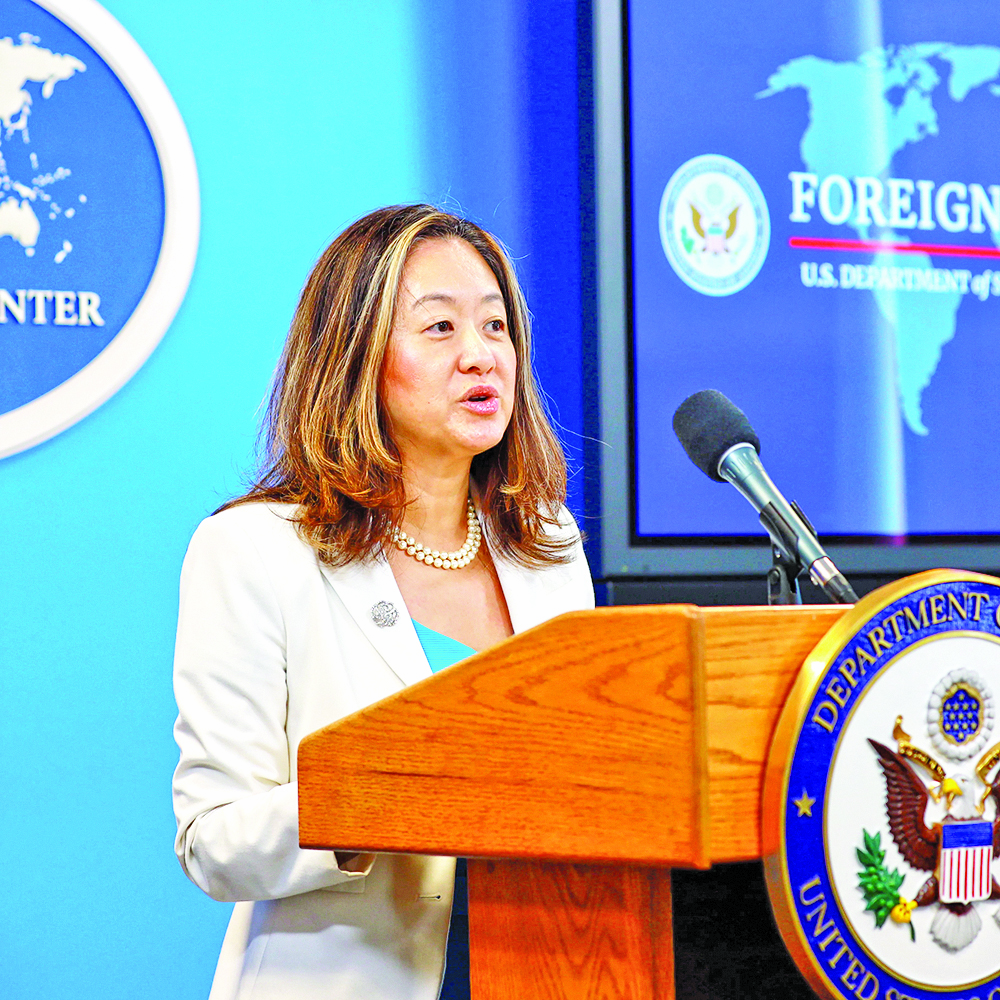 The United States (US) on Wednesday threw its support behind Guyana, with a senior State Department official condemning Venezuela's recent acts of aggression and demanding that the Spanish- speaking country release the Guyanese ships and crews it illegally detained recently.
According to a statement released on her social media post, acting Assistant Secretary for the United States Bureau of Western Hemisphere Affairs, Julie Chung, condemned the Nicholas Maduro regime's acts of intimidation against Guyana. She also expressed support for the Organization of American States' (OAS) own statement on the issue.
"The US supports a peaceful resolution of the maritime boundary controversy between Venezuela and Guyana, and condemns Maduro's intimidation through the seizure of fishing vessels and detention of crew. We echo the OAS Secretariat's call for their release without delay," Chung said in her statement.
During a meeting of the OAS Permanent Council on Wednesday, Venezuela formed an integral part of the discussion, as several countries on the council, including the US, Canada, Belize, Trinidad and Brazil, condemned Venezuela's recent actions.
OAS Secretary General Luis Almagro took the opportunity to demand that Venezuela respect Guyana's sovereignty. Venezuela was also exhorted to settle its longstanding border controversy with Guyana at the International Court of Justice (ICJ), which is the proper forum.
In his remarks at the meeting, Almagro reminded Venezuela of its need to adhere to international norms and settle its grievance with its boundary at the ICJ. While Almagro acknowledged that Venezuela has so far refused to participate in the court process, he noted the importance of a peaceful settlement at the ICJ, for the sake of regional peace.
"It is an issue that has been around for more than a century. We trust international justice will oversee this, despite the fact that we are looking at certain powers in Venezuela. Any unilateral move when it comes to the EEZ is not the way to resolve,' Almagro said.
"And in the final analysis, respecting the territorial integrity goes to respecting international mechanisms to resolve controversies," he said, as he went on to urge both parties to resolve the controversy in the arena of the ICJ.
OAS demands
On Wednesday, Almagro condemned Venezuela's recent actions in a statement in which the OAS demanded that the Spanish-speaking country release the Guyanese fishermen and their vessels.
"The General Secretariat of the Organization of American States (OAS) condemns the illegal detention by the Venezuelan dictatorship of two Guyanese-registered fishing vessels and their crews, who were located within the Cooperative Republic of Guyana's Exclusive Economic Zone (EEZ)," Almagro said.
"The General Secretariat demands that the Guyanese citizens are released promptly and safely to Guyanese authorities, as well as the two detained vessels. Moreover, the General Secretariat reiterates its support for the rules and processes set by international law regarding ongoing territorial conflicts."
The OAS made clear that the controversy between the two countries must be settled by the international court, and not by unilateral and aggressive actions on the part of Venezuela. The OAS also reminded that "any attempt to derail this international legal process, such as the decree issued by the Maduro regime, is contrary to international law and standards, and has no legal bearing or significance."
Belize
The Government of Belize also issued a statement of its own, expressing its concern over the news that Venezuela has detained Guyanese fishing vessels and crew. And much like in Trinidad, Belizean Foreign Minister Eamon Courtenay summoned Venezuelan Ambassador Gerardo Argote to Belmopan for a meeting to explain his country's actions.
"Minister Courtenay took the opportunity to condemn this latest flagrant violation of Guyana's sovereignty and territorial integrity by Venezuela. Belize called for the immediate release of the illegally detained Guyanese nationals and their vessels, and urged the Government of Venezuela to respect international law and ensure a peaceful resolution of this incident," Belize said in its statement.
"Minister Courtenay has remained in close contact with his colleague, Hon. Hugh Todd, Foreign Minister of Guyana, on this matter. Belize reiterates its unequivocal support for Guyana's sovereignty and territorial integrity, and the process underway before the International Court of Justice to finally and peacefully resolve the controversy between the two countries," the statement added.
The two Guyanese-registered fishing vessels, with combined crews comprising 12 men, were operating off the coast of Waini Point in Guyana's Exclusive Economic Zone (EEZ) when they were intercepted by the Venezuelan naval vessel Commandante Hugo Chavez GC 24 on January 21.
The crew of one of the ships, the Lady Nayera, is headed by Captain Richard Ramnarine and comprises crew members Ramlakan Kamal, Nick Raghubar, Javin Boston, Michael Domingo and Joel Joseph.
The other ship, the Sea Wolf, is captained by Captain Toney Garraway, and comprises crew members Errol Gardener, Orland Roberts, Christopher Shaw, Shirvin Oneil and Randy Henry.
These Guyanese fisherfolks have since been brought before a Venezuelan court, and reports indicate they will be kept in custody for some 45 days pending an investigation.
The detention of the two vessels comes on the heels of Venezuelan President Nicholas Maduro's recent presidential decree which reinforced his country's illegal claim to Guyana's Essequibo region. (G3)