…visiting Guyana to engage local stakeholders, Opposition
The United States has further pledged its support towards a number of developmental areas in Guyana, including modernising the country's energy sector as well as its physical infrastructure.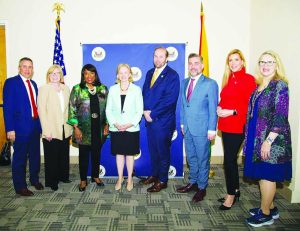 This commitment was made by a seven-member bipartisan congressional delegation (CODEL) from the United States Congress currently in Guyana to engage local stakeholders on a number of areas of mutual interest including governance and bipartisan cooperation between the two countries.
Led by Chairman of the House Committee on Ways and Means, Congressman Jason Smith, the delegation also includes Congresswoman Terri Sewell (D-AL), Congresswoman Carol Miller (R-WV), Congresswoman Michelle Fischbach (R-MN), Congresswoman Beth Van Duyne (R-TX), Congressman Mike Carey (R-OH), and Congressman Kelly Armstrong (R-ND).
They arrived in Georgetown on Thursday evening with an agenda to meet with Government officials and Opposition leaders to discuss issues related to governance, economic matters, and the importance of bipartisan cooperation.
Additionally, the congressional delegation will also meet with prominent business leaders from the United States and Guyana to learn first-hand about Guyana's exponential economic growth.
According to the US Embassy in Georgetown, the visit of the US officials seeks to further examine the bilateral and economic cooperation between the United States and Guyana.
Strengthening relationship
On Friday, President Dr Irfaan Ali hosted a State Lunch for the congressional delegation at State House in Georgetown.
During his brief address, the Head of State spoke about the importance of democracy, enhancing trade and ways of strengthening the overall relationship between the two countries.
President Ali also informed the congressional delegation of developments in Guyana and reiterated his Government's commitment to a strong partnership with the United States in several areas including, energy, food security, climate change and national security.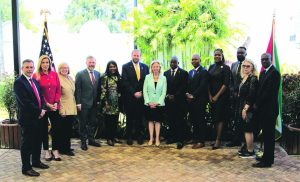 Moreover, the Guyanese leader further pointed to the shared principles of promoting democracy, the rule of law and respect for international law.
Energy
On the other hand, the Ways and Means Committee Chairman commended President Ali and Guyana for the leadership shown in a number of areas in the Region and pledged continued US support and cooperation in several areas including support for the modernisation of the country's energy and physical infrastructure.
In fact, during a subsequent interview with US-based Fox News Digital, Congressman Smith lauded the "American-Guyanese bilateral relationship" and spoke about the potential of Guyana's energy resources.
"Guyana's abundant energy resources have the potential to lift its people out of poverty, help power the world, and ensure more affordable energy for American families and job creators," he told Fox News Digital.
The Guyana Government is currently pushing the country's transition to renewable energy with a focus on mixed energy sources. Key among these initiatives is the People's Progressive Party/Civic's gas-to-energy project, which features the construction of a 300-megawatt (MW) Combined Cycle Power Plant and an Integrated Natural Gas Liquid (NGL) Plant at Wales, West Bank Demerara (WBD).
US Ambassador to Guyana, Sarah-Ann Lynch accompanied the delegation to meet the President.
From the Guyana Government's side, Prime Minister Brigadier (Ret'd) Mark Phillips; Vice President Bharrat Jagdeo; Foreign Affairs and International Cooperation Minister, Hugh Todd; Natural Resources Minister, Vickram Bharrat; Amerindian Affairs Minister, Pauline Sukhai; Public Works Minister, Juan Edghill and other Cabinet members as well as several Government officials were also present.
Opposition meeting
Meanwhile, the US congressional delegation also met with members of the parliamentary Opposition on Friday.
According to the US Embassy, the visiting officials discussed shared values of inclusion and bipartisan cooperation in policy formulation with the Opposition parliamentarians during the meeting.
Opposition Leader Aubrey Norton led the team, which included Opposition Chief Whip Christopher Jones, Amanza Walton-Desir, David Patterson and Vinceroy Jordan.
Chairman Smith and his Committee members are wrapping up a three-country tour which saw them visiting Mexico and Ecuador before their arrival in Georgetown.
The House Committee on Ways and Means is the oldest committee of the United States Congress and is the chief tax-writing committee in the House of Representatives. Since 1795, the committee has exercised jurisdiction over revenue and related issues such as tariffs, international trade policy, and the bonded debt of the United States.
This is second visit to Guyana this week by officials from the US Government. Joseph Salazar, Special Advisor for the Western Hemisphere from the Office of US Vice President, Kamala Harris; and Michael Taylor, Deputy Director for Western Hemisphere Affairs, Office of Caribbean Affairs were in Georgetown earlier this week to continue talks on mutual cooperation.
Energy and food security and the transformative Low Carbon Development Strategy (LCDS) were among the topics on the agenda during a meeting on Monday between the US officials and a high-level Guyana Government team led by President Ali.
Meanwhile, a follow-up meeting is expected at a subsequent date, to discuss PACC 2030 – an initiative launched by Vice President Harris last year to improve cooperation between the US and Caribbean countries. (G8)