Guyana's Parliamentary Opposition on Wednesday met with United States Congressional Leaders on Capitol Hill, and during the meeting, the Guyanese politicians were asked to show their developmental plans for the country.
Led by Opposition Leader Aubrey Norton, a team of Members of Parliament from the A Partnership for National Unity (APNU) and Alliance For Change (AFC) travelled to Washington, D.C. for a meeting with the Black Congressional Caucus.
The Leader of the Opposition's office said last week that the engagement with House Speaker Hakeem Jeffries and his team will focus on the opportunities and challenges confronting Guyana, and on how political stakeholders in the country can work together to ensure that all Guyanese citizens, regardless of race or ethnicity, benefit from the country's oil wealth.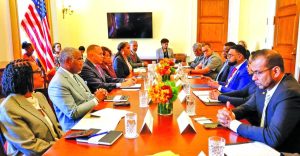 Norton was joined by People's National Congress Reform General Secretary Dawn Hastings; Shadow Local Government Minister and PNCR Executive Committee Member Ganesh Mahipaul; Shadow Attorney General and PNCR Executive Committee Member Roysdale Forde; Shadow Minister of Foreign Affairs and PNCR Executive Committee Member Amanza Walton-Desir; PNCR Member Nima Flue Bess; Chairman of the AFC, Catherine Hughes; AFC Member Deonarine Ramsaroop; and Leader of Guyana Action Party (GAP), Vincent Henry.
Shadow Minister of Public Works and AFC Executive Committee Member David Patterson was also scheduled to be part of the delegation and deliver presentations before the Congressional Caucus. However, he was unable to fly after his name was "inadvertently" left on the Guyanese Immigration Department's no fly list when it should have been removed since July.
Healthy exchange
Following Wednesday's meeting, Norton said the engagement with the congressional leaders went "extremely well". He said they were able to inform the US officials of the critical issues in Guyana, and give them a clear vision of where his party wants to take the country.
"I think there was a healthy exchange. We understand some of their interests, where the confluence of interest lies, and we will pursue those issues," he noted.
According to the Opposition Leader, while Congresswoman Maxine Waters accepted some of the Opposition's positions during the meeting, she also pointed to the fact that there are two sides to a coin.
Norton outlined that he was able to present a document to the Congressional leaders that clearly details the Opposition's approach to governance in Guyana.
"[Congresswoman Waters] asked for a clear development plan, which we identified the tenets. We also left with her a document that will give a lot of that information. There is a wider dossier that we would've left that would've put all the issues in context in Guyana," Norton said during a briefing after the meeting.
Meanwhile, US House of Representatives leader Hakeem Jeffries told the Opposition politicians that he wants to see more inclusivity between Guyanese leaders, and urged the APNU/AFC delegation to work towards this.
This meeting with the Opposition MPs comes about two weeks after House Leader Jeffries hosted an engagement with President Dr Irfan Ali and a delegation of Government officials.
Jeffries said in a Facebook post that they discussed several critical issues, including regional and energy security, the climate crisis, and the importance of an inclusive society in Guyana that involved full economic participation and civic engagement by Guyanese-Africans and Guyanese-Indians. They also talked about electoral reform, strengthening democratic institutions, and the need to bolster access to banking and financial services in the Caribbean region.
Several leading congressional members with expertise in foreign affairs, finance, security, and other critical issues to the Western Hemisphere and the Caribbean-American community in Brooklyn and across the United States also participated.
At the time, Jeffries had indicated that when he meets with the leaders of the Guyanese Opposition party, he would continue the dialogue about the opportunities and challenges confronting Guyana.
"We will continue to encourage the Government and the Opposition to work together to ensure that all Guyanese citizens, regardless of race or ethnicity, benefit from the economic growth underway in the South American nation," Jeffries had stated in the social media post earlier this month.
During that meeting, President Ali was accompanied by Foreign Affairs and International Cooperation Minister Hugh Todd; Tourism, Industry and Commerce Minister Oneidge Walrond; and Foreign Secretary Robert Persaud.
In a Facebook post, the Foreign Secretary had highlighted the significance of the meeting.
"We are happy that the Congressman and Democratic Leader in the House responded to the Government's request to meet, which enabled a constructive discourse on regional issues and the trajectory of Guyana's socioeconomic development. Further, that the Congressman has acknowledged President Ali's invitation to visit Guyana is most welcomed," Persaud stated.
Congressman Jeffries is a US Democratic Party top leader in the House of Representatives. He is a representative of parts of Brooklyn and Queens in New York, which is home to a large Guyanese population, and has been making public statements about discrimination in Guyana – a narrative that is being peddled by the PNC-led A Partnership for National Unity (APNU) Opposition.
Last year, the Guyanese Leader had expressed concerns over remarks made by Jeffries, whom he had noted was being misled about governance issues and democracy in Guyana. In fact, President Ali had even invited the Congressman for a meeting during a July 2022 US trip, but Jeffries had declined to meet.
However, about a year later, President Ali and Congressman Jeffries met in Trinidad and Tobago, and during the brief interaction, the Guyanese Leader said he schooled the US politician on the reality in Guyana.