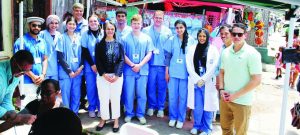 Members of the United States Embassy and the non-governmental organisation (NGO), Humanity First, conducted a medical outreach for residents in Linden, Region 10, on Monday.
In attendance were the US Embassy Chargé d'Affaires, Adrienne Galanek, Linden Mayor Waneka Arrindell, and eight medical students from the University of Maryland.
In furthering its humanitarian assistance partnership with Guyana, the US Embassy collaborated with the NGO to provide medical assistance for over 180 residents of Linden.
The individuals received general healthcare, as well as ophthalmology care, dental care, and blood testing. These services help to improve the quality of life for residents by providing them with safe and accessible care.
This collaboration highlights the US Embassy's commitment to strengthening partnerships between the United States and Guyana and to working with the Government of Guyana to support enhanced public health for Guyanese citizens.